Helping Mamas
Volunteer Management System
Building an integrated volunteer management system to improve
volunteer experience and admin user experience
Helping Mamas helps over 60,000 children a year and has logged over 10,000 volunteer hours
Helping Mamas is a non-profit dedicated to providing baby supplies to mothers in Georgia. With the large volume of volunteers, the organization needed a new updated way to manage these volunteers' information.
Bits of Good is a student-led non-profit organization where we team up with non-profits to provide affordable design solutions for real business problems. My role was product designer on the Helping Mamas team.
Problem
Helping Mamas is a fast-growing non-profit organization and were utilizing manual tracking methods for tracking volunteers. They needed a new and updated way to track this high volume of volunteer data to have a database that they could reference for future opportunities as well as needing a more central place for volunteers to access their data.
Solution
We decided on building out an integrated volunteer management system as our project scope for the semester and focused on building out the administrative and volunteer user experience. We interviewed our main admin user through virtual communication and aligned with them on project objectives and updates throughout the semester.
Team
2 UX designers

7 developers

1 project manager

1 engineering manager
Timeline
Overall: 10-15 weeks

Discovery & Research: 4 weeks

Design & testing: 6-11 weeks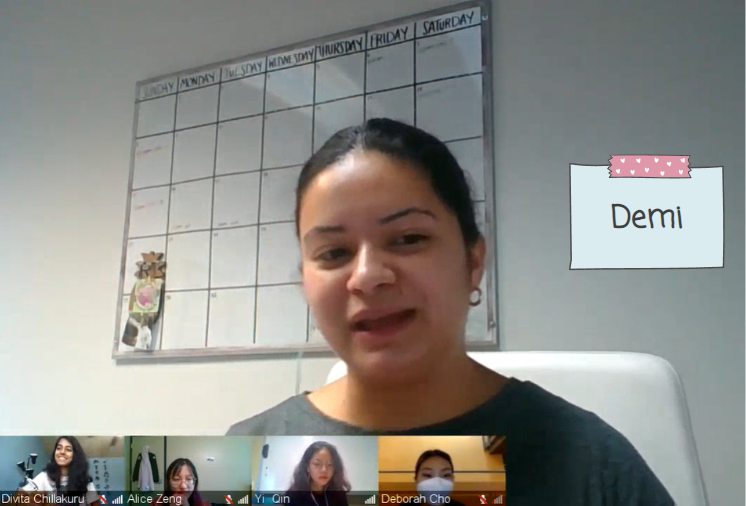 Admin User Interviews
During the ideation phase of the project, our team conducted multiple interviews with our main admin user. Our goals with these interviews were to align on the following:
Admin journey flow

Volunteer journey flow

Volunteer waiver management information

Biggest pain points

Biggest epic features desired
User Persona Story
We then created some user persona stories to help us align on the main target user groups:
Mary is the Director of a non-profit that heavily relies on volunteers. As operations have grown, she's found it increasingly difficult to keep track of her people, especially across her different events, locations, and needed skills. She has all of her volunteers on an Excel spreadsheet but isn't familiar with how to perform any complex tasks with it. Mary wants to e-mail a certain group of people about a volunteer opportunity she has, as she doesn't want to bother her entire mailing list with an e-mail that may not apply to them. She wants to focus on tracking check-ins and tracking the volunteers that attended their events.
Goal: Email a subset of her volunteers about a particular opportunity, send out thank you notes and surveys

Track volunteer hours, keep a record of groups
User Journey Map
We created a user journey map to build a better understanding of how we could build a more frictionless experience for our users. The map revealed opportunities at the registration and check-in/check-out stages of the volunteer journey.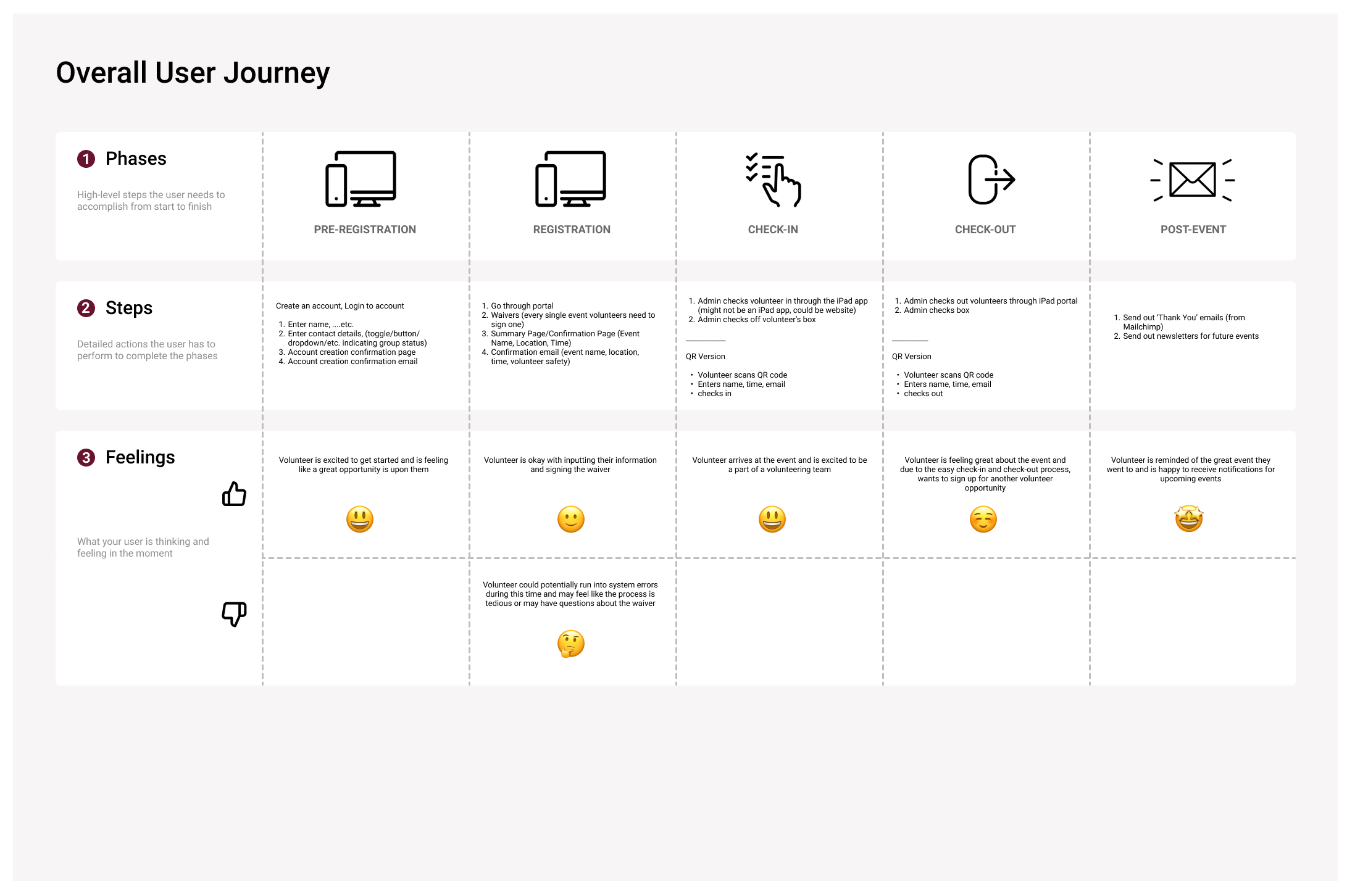 Information Architecture Flows
We then proceeded to build out the flows of each of the actions that the users would take. We separated the categories into admin, volunteer, and event management. Our goal was to build these flows and then conduct a design critique with our main stakeholder to develop buy-in as well as receive feedback on the flows so we could update them before going into sketching, wireframes, and building out the application itself.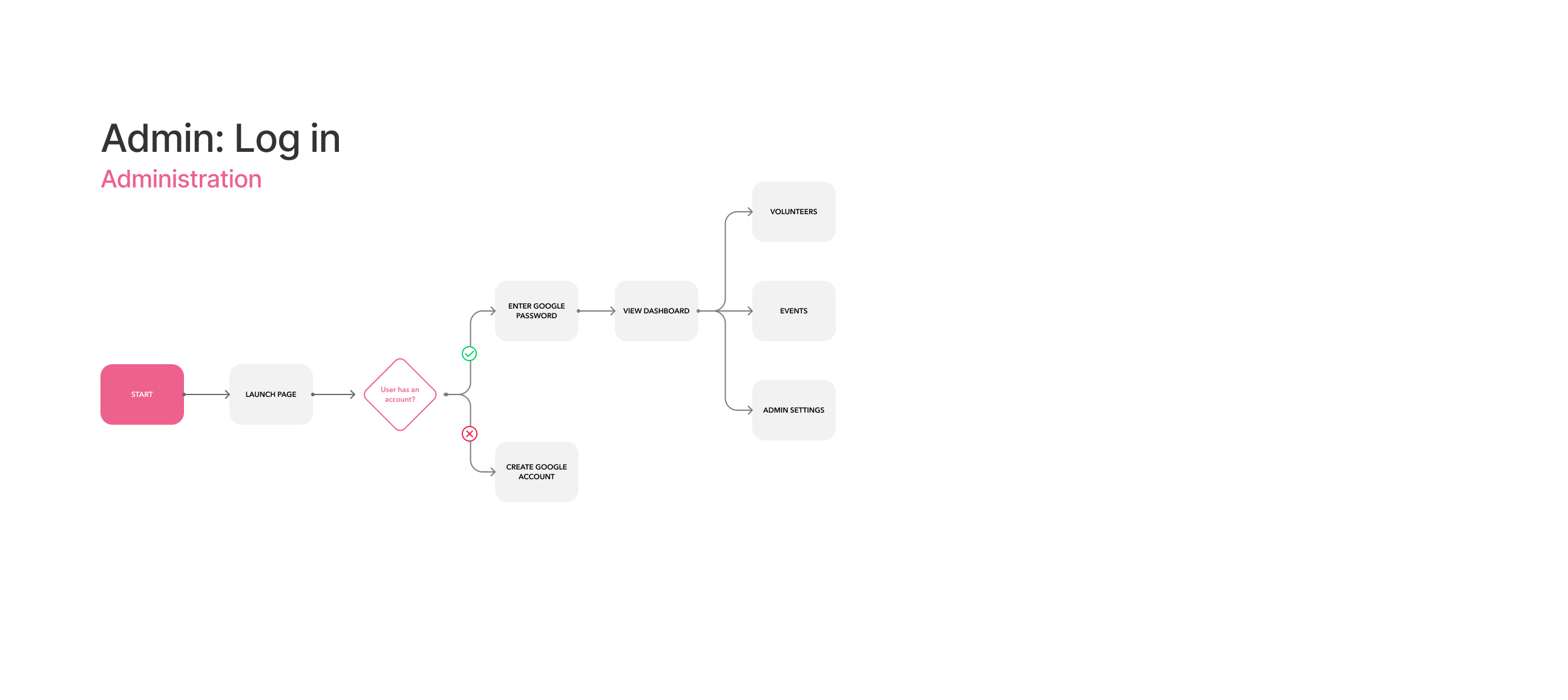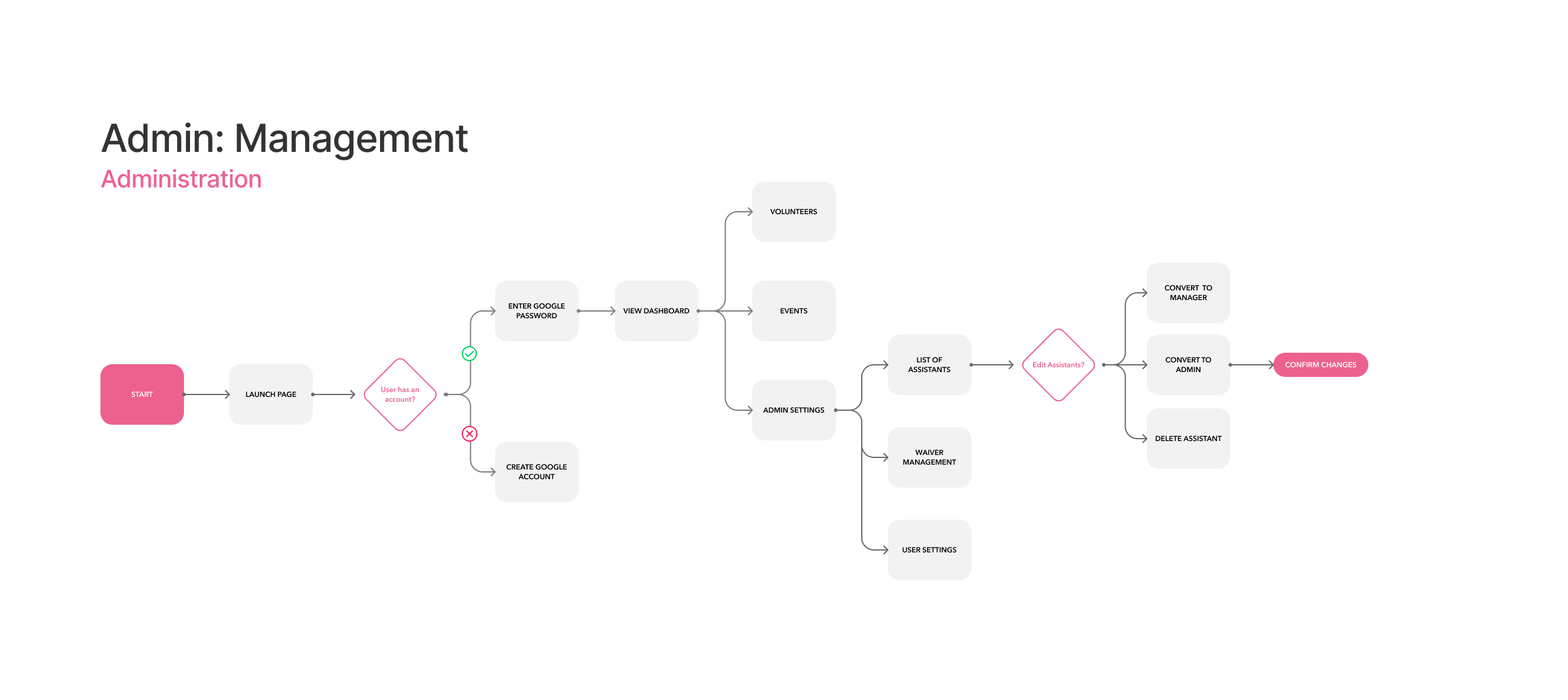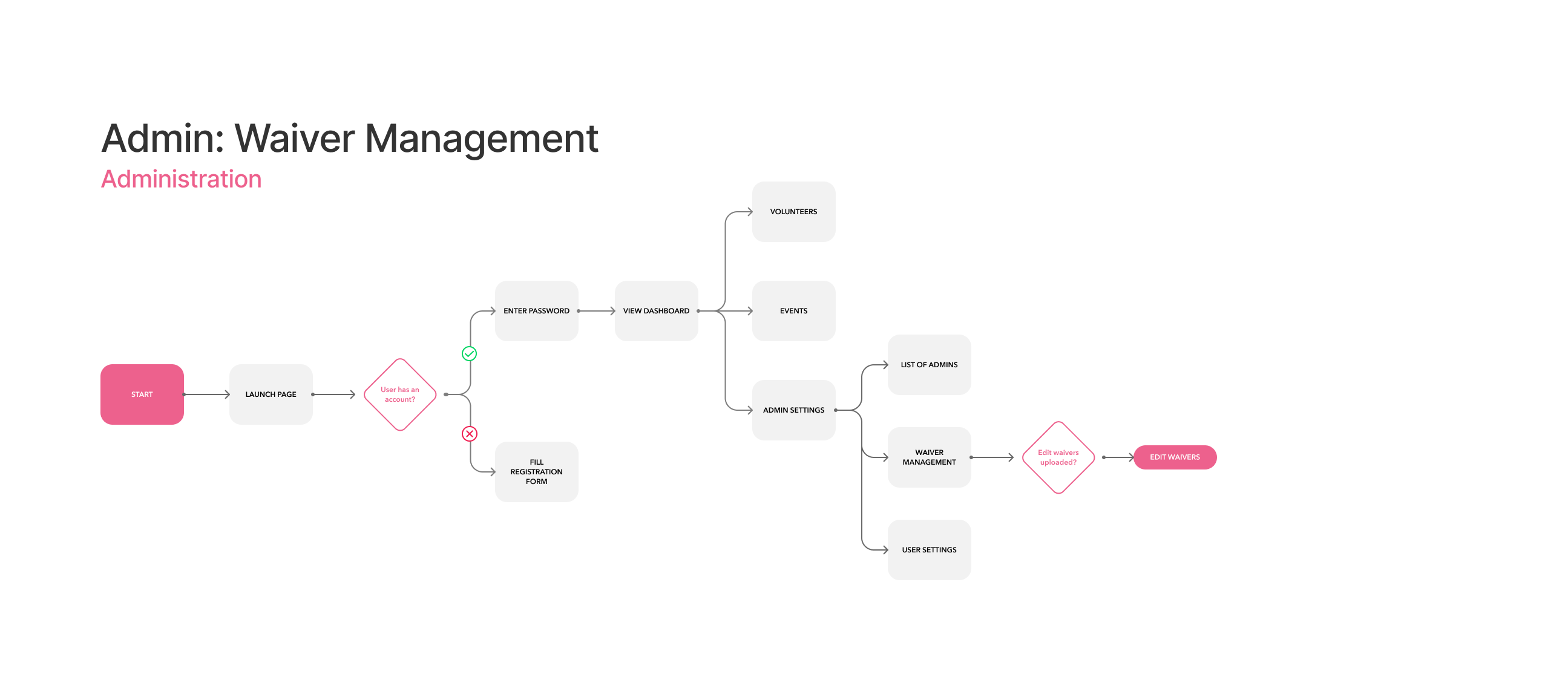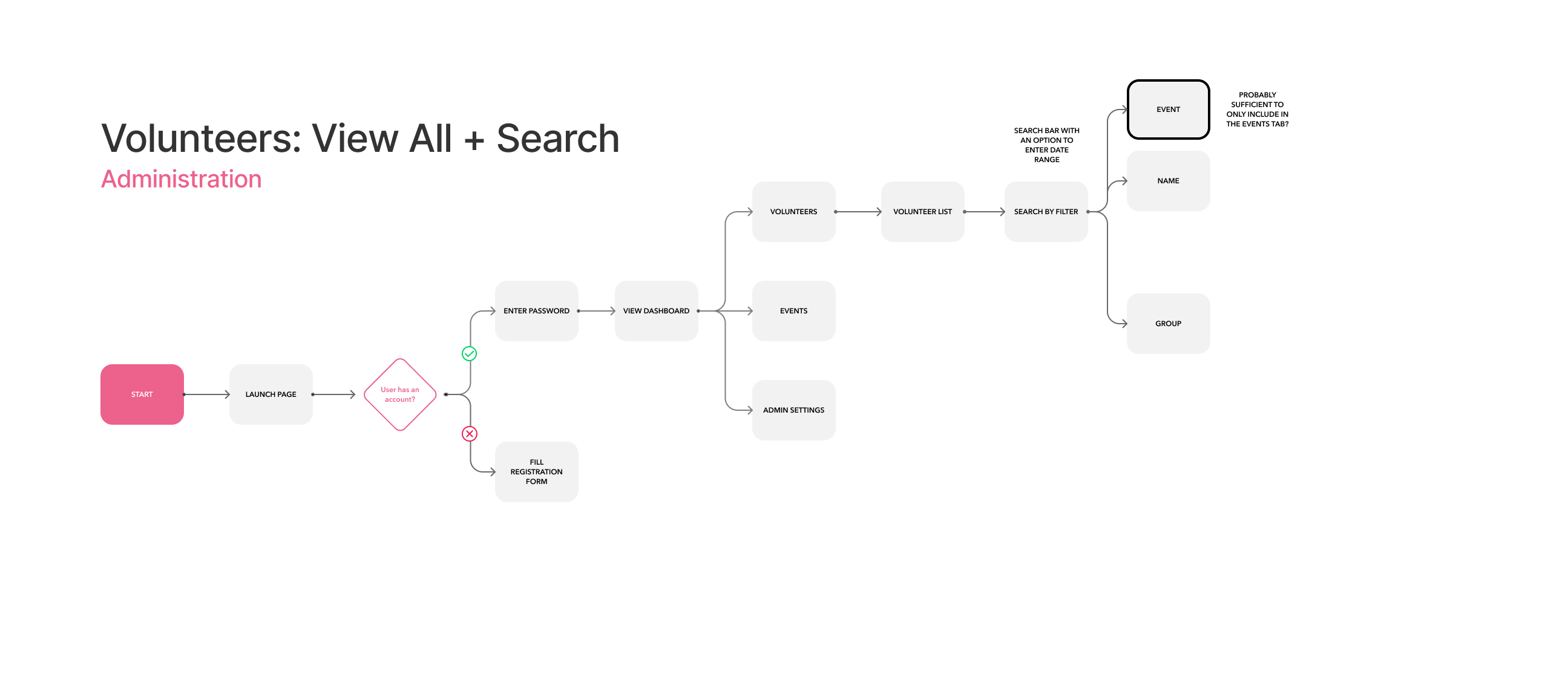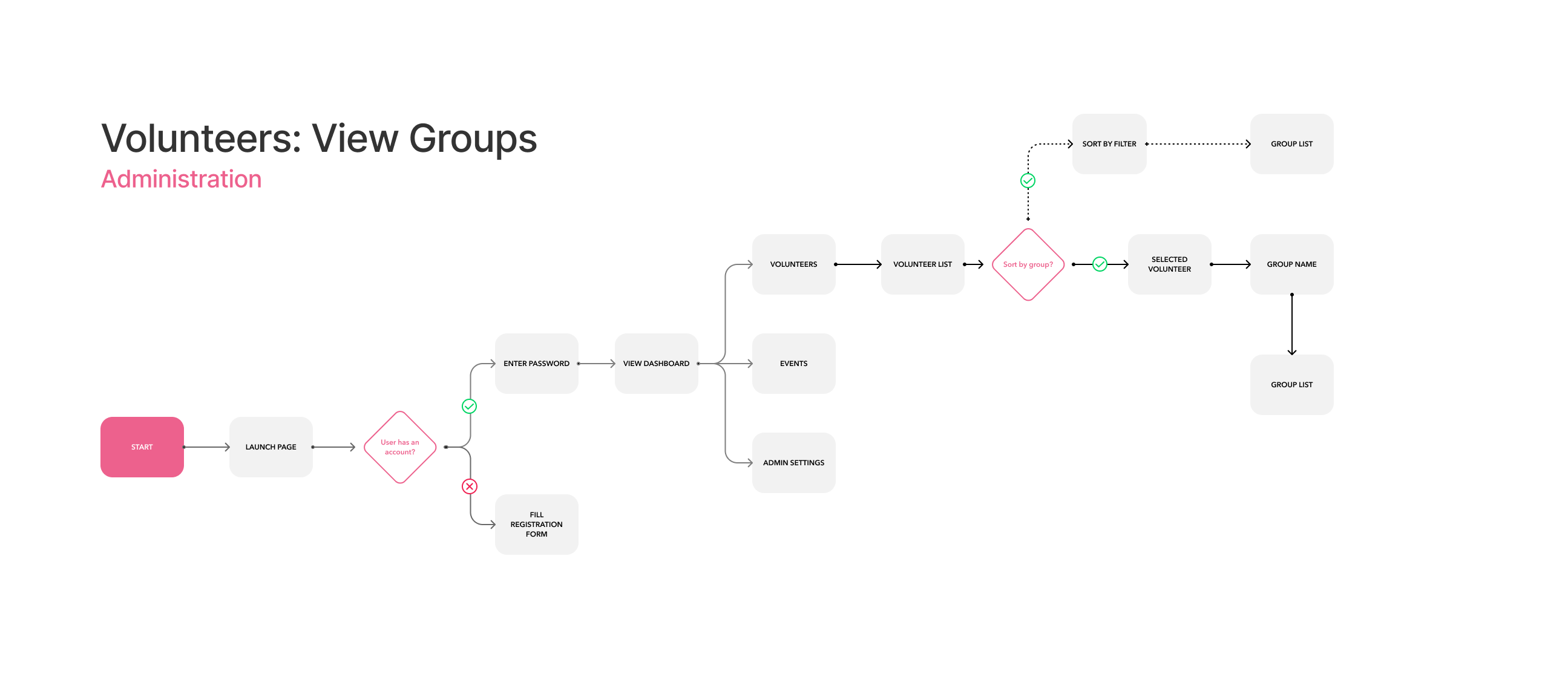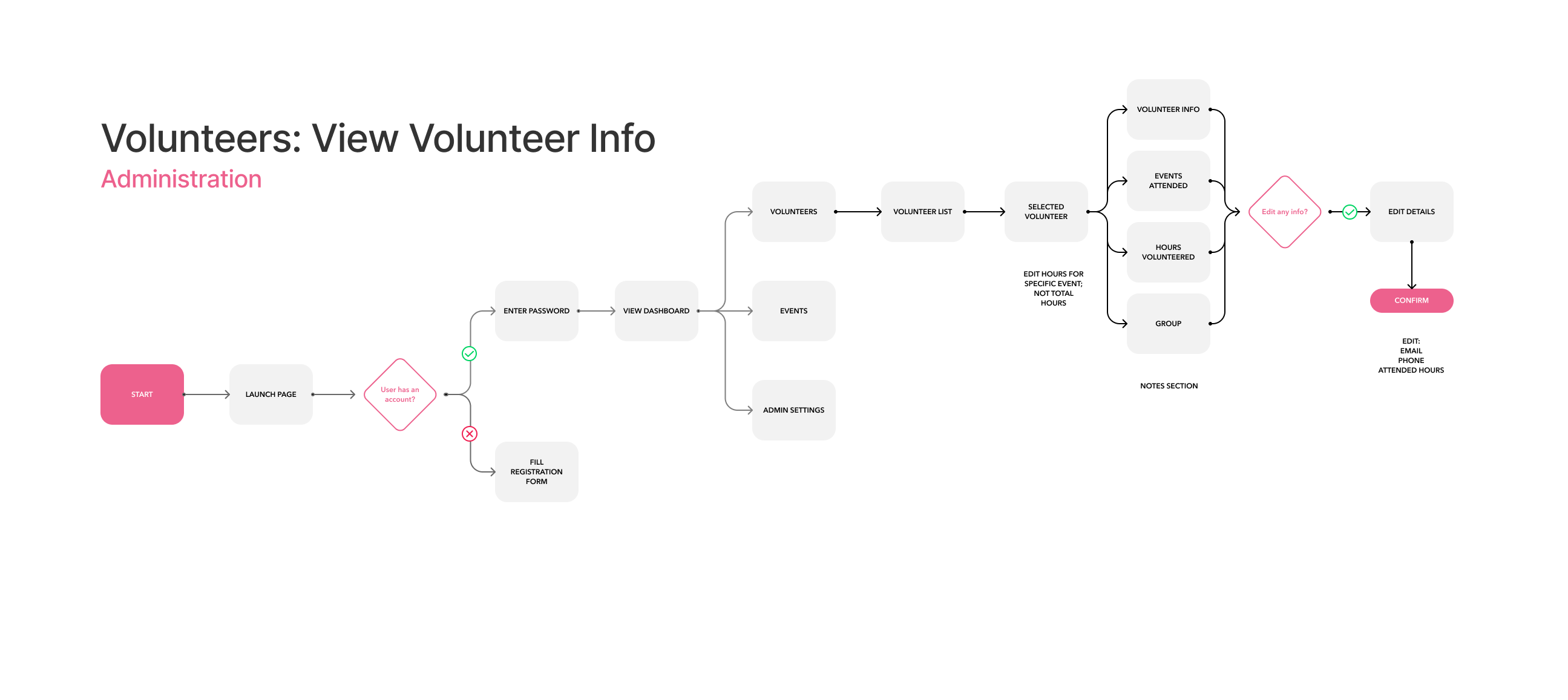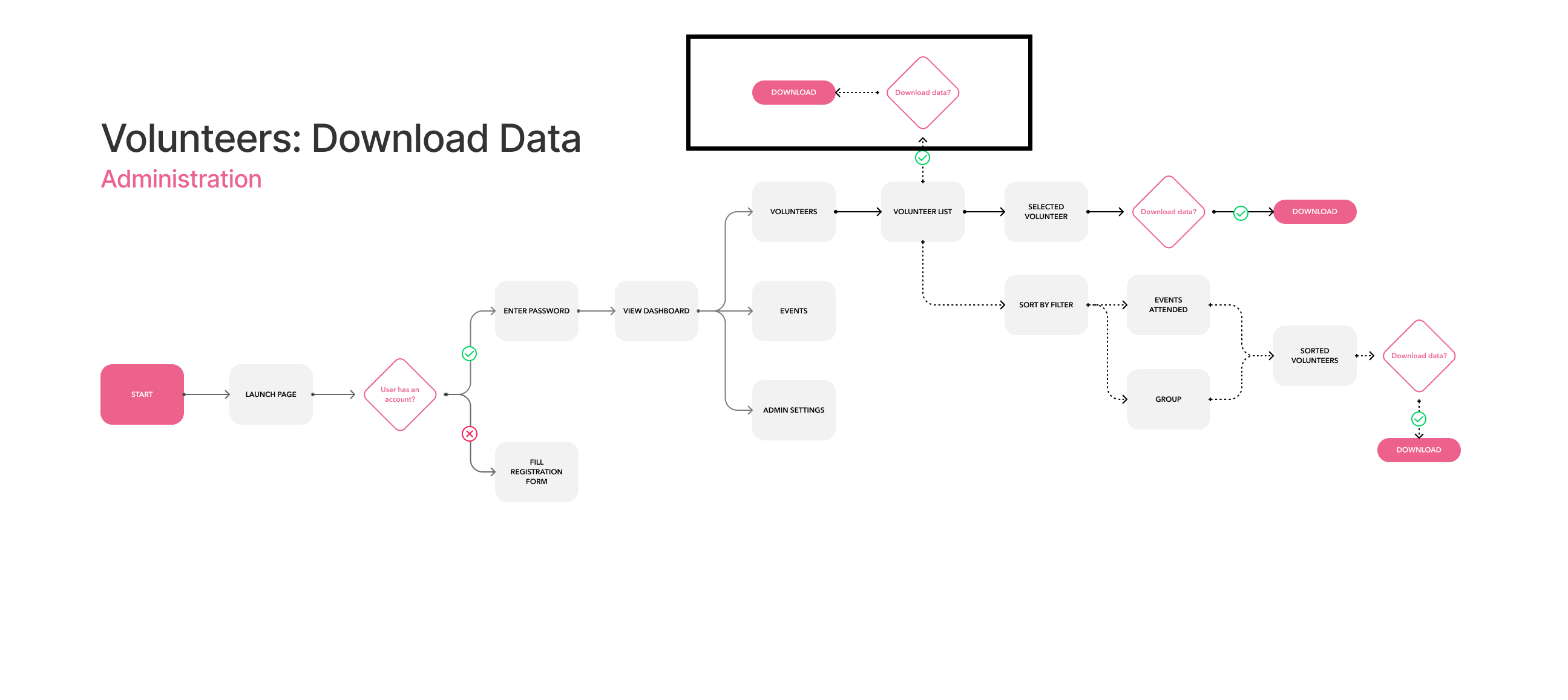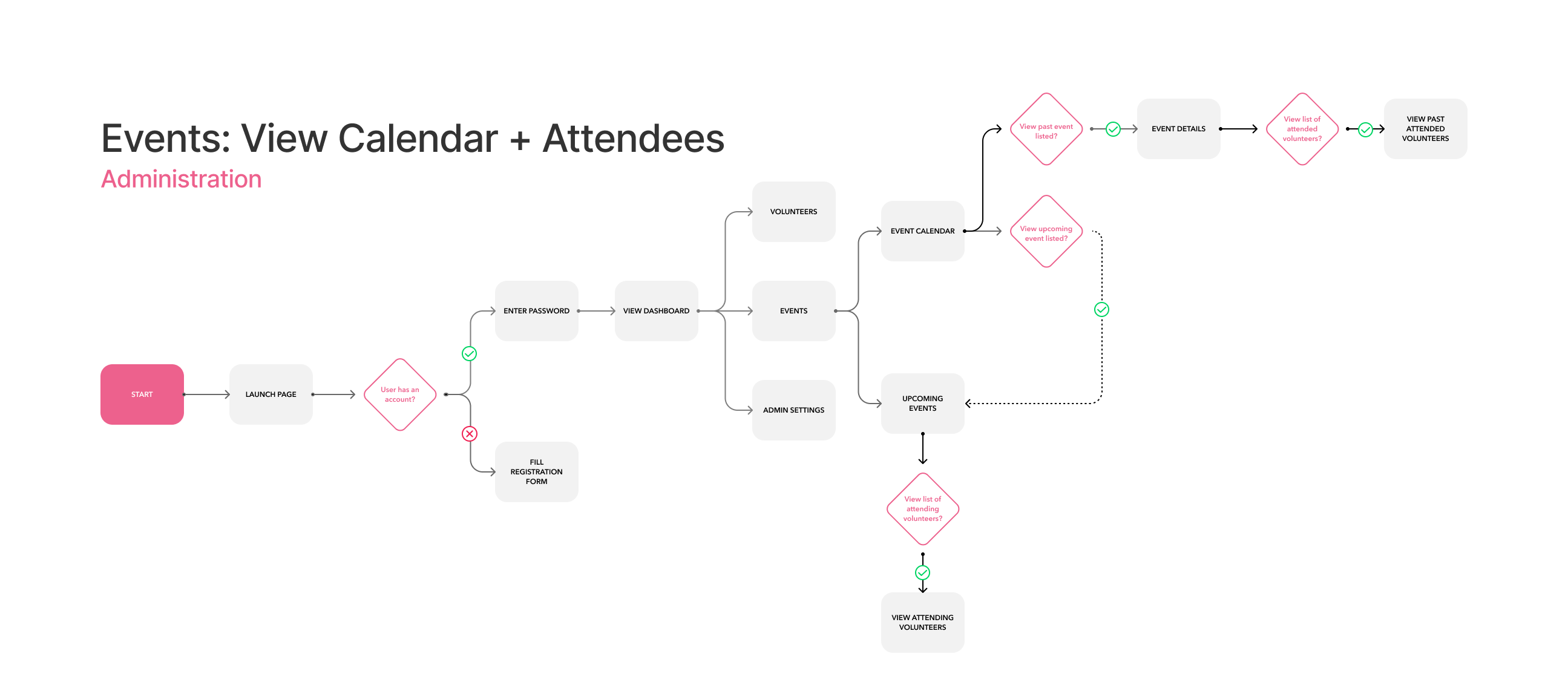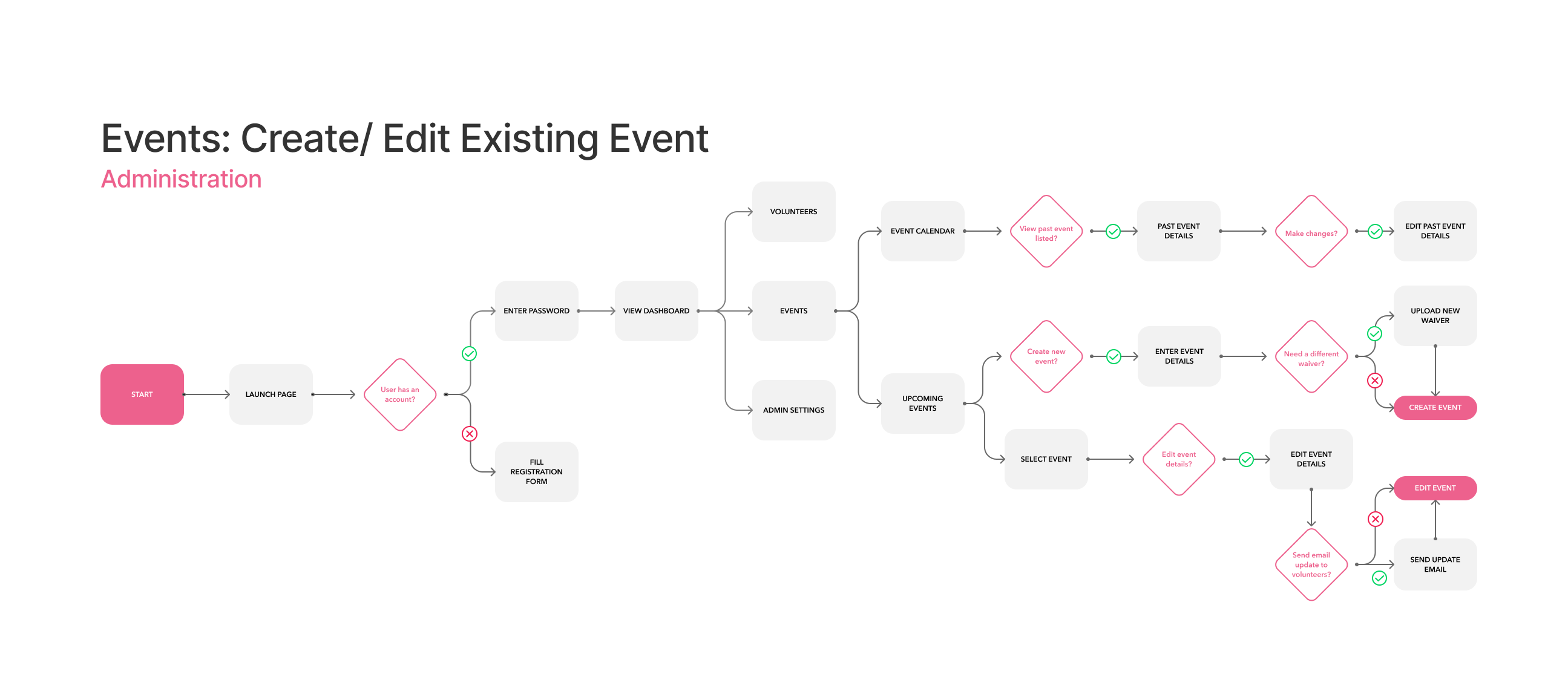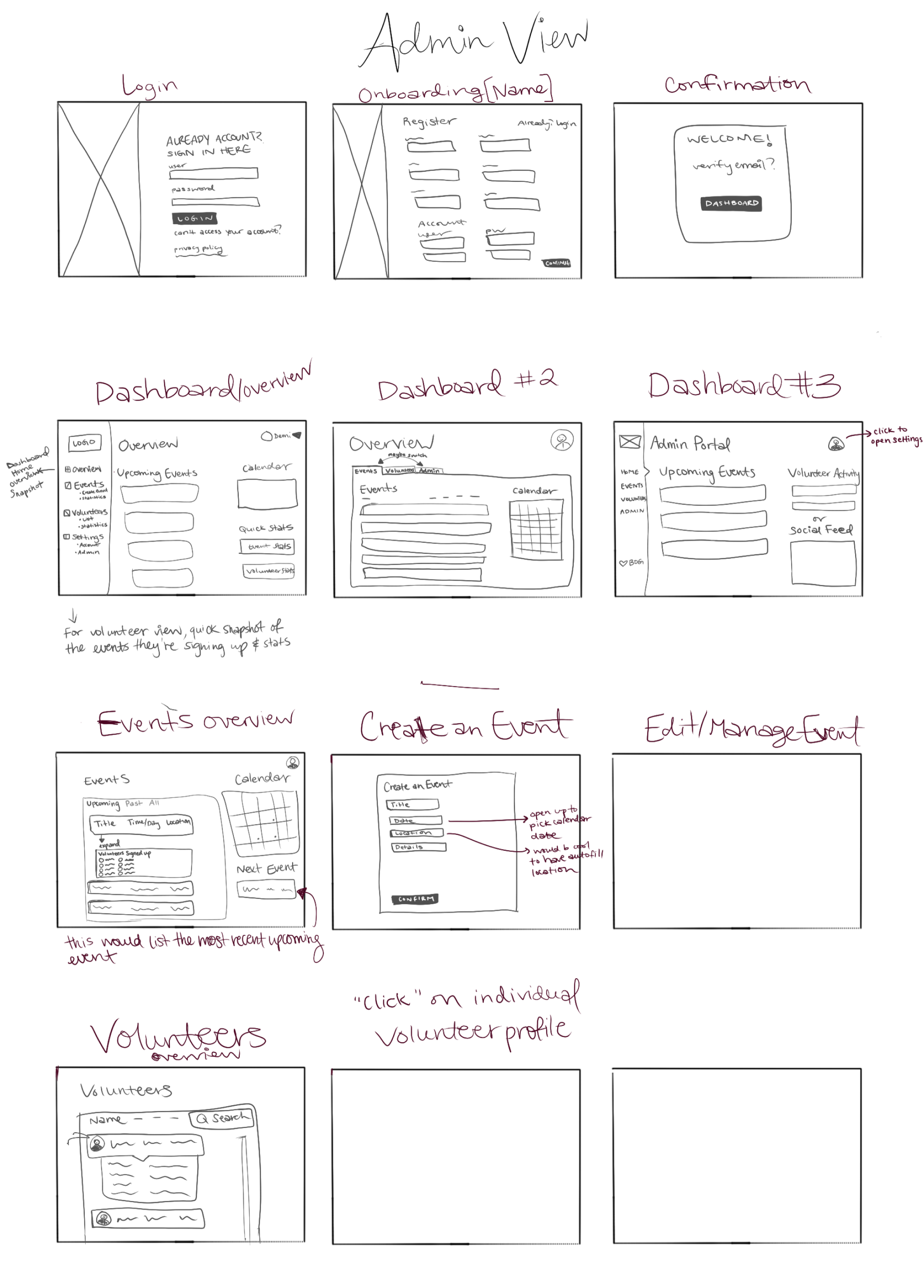 Sketches
I began by sketching out some potential wireframe flows and screen ideas in Procreate. I then translated these ideas into Figma and began building out the low-fidelity prototype.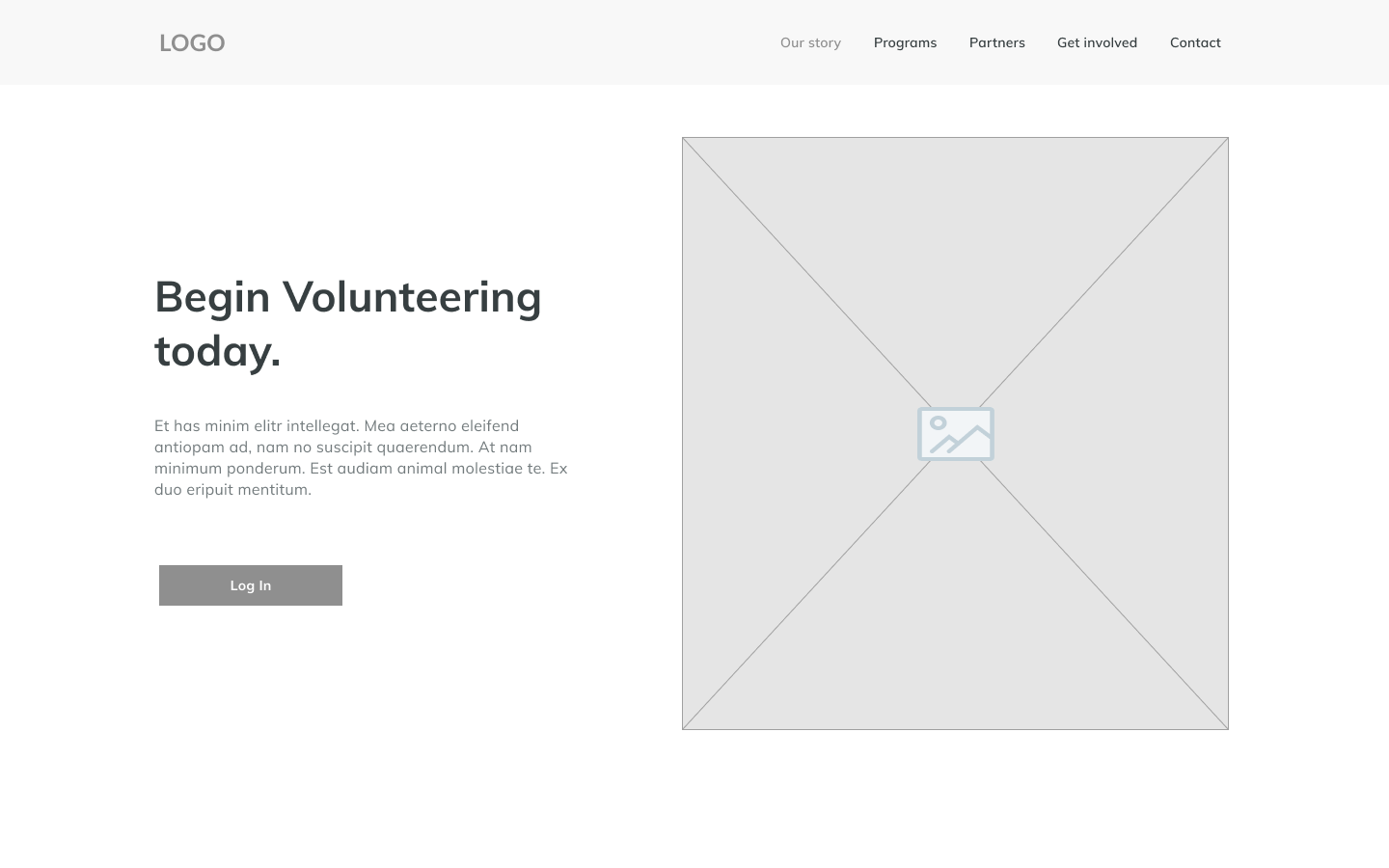 Low-Fidelity Wireframes
We then began to translate these user flows into low-fidelity wireframes for a design critique session with our admin user. We iterated on multiple options for the following screens:
Landing Page

Admin Dashboard

Volunteer Dashboard

Volunteer Profile Creation

Event Creation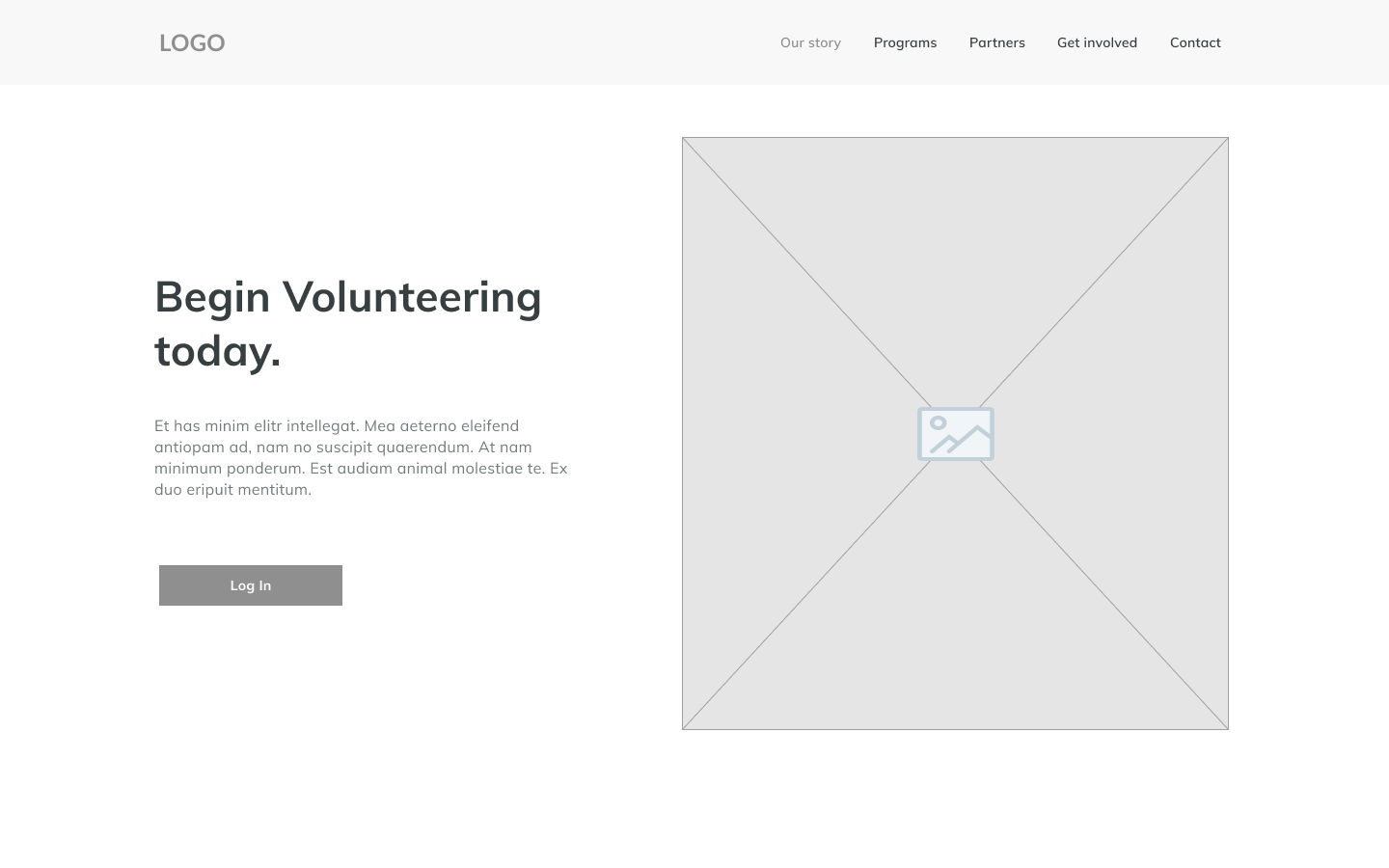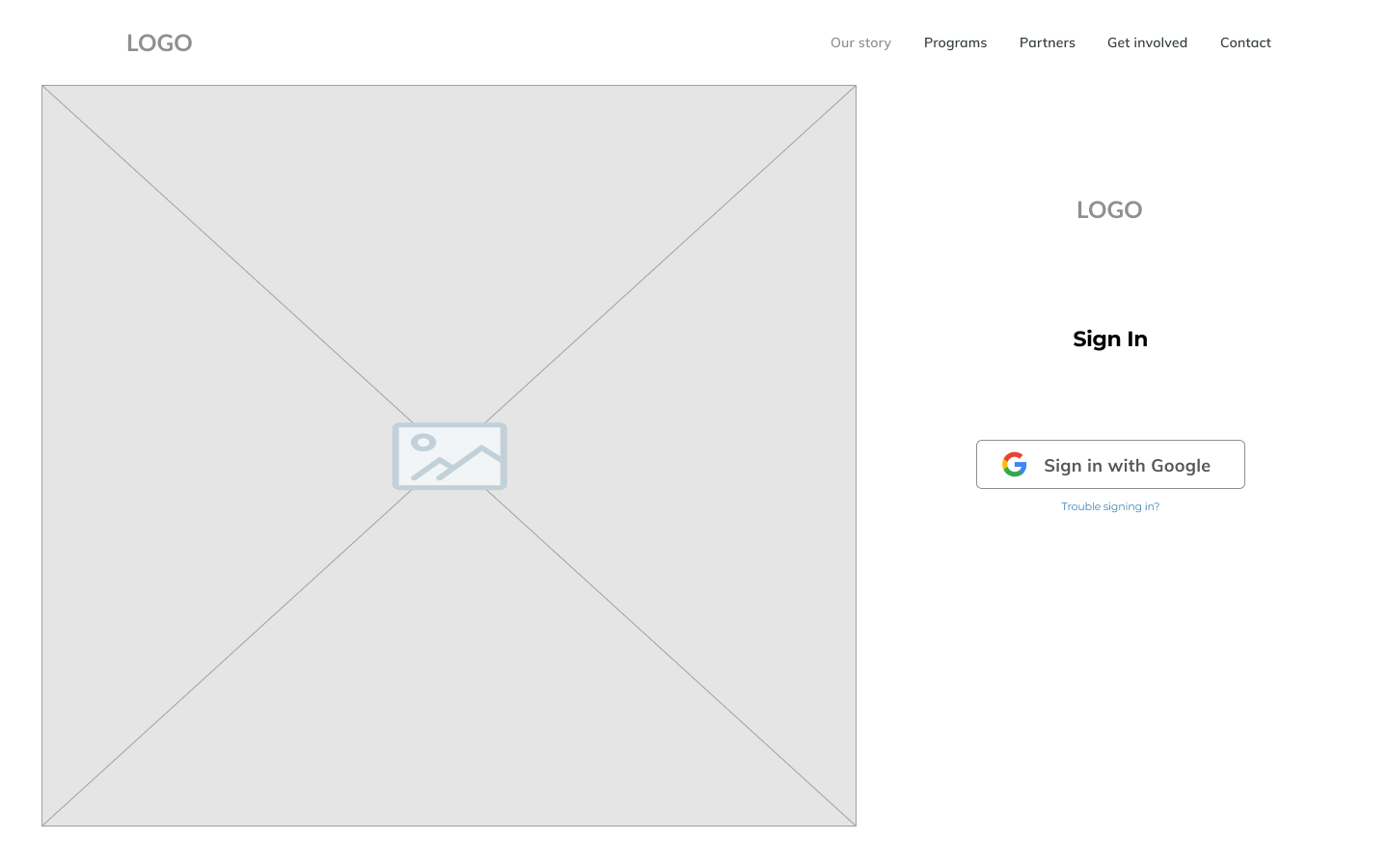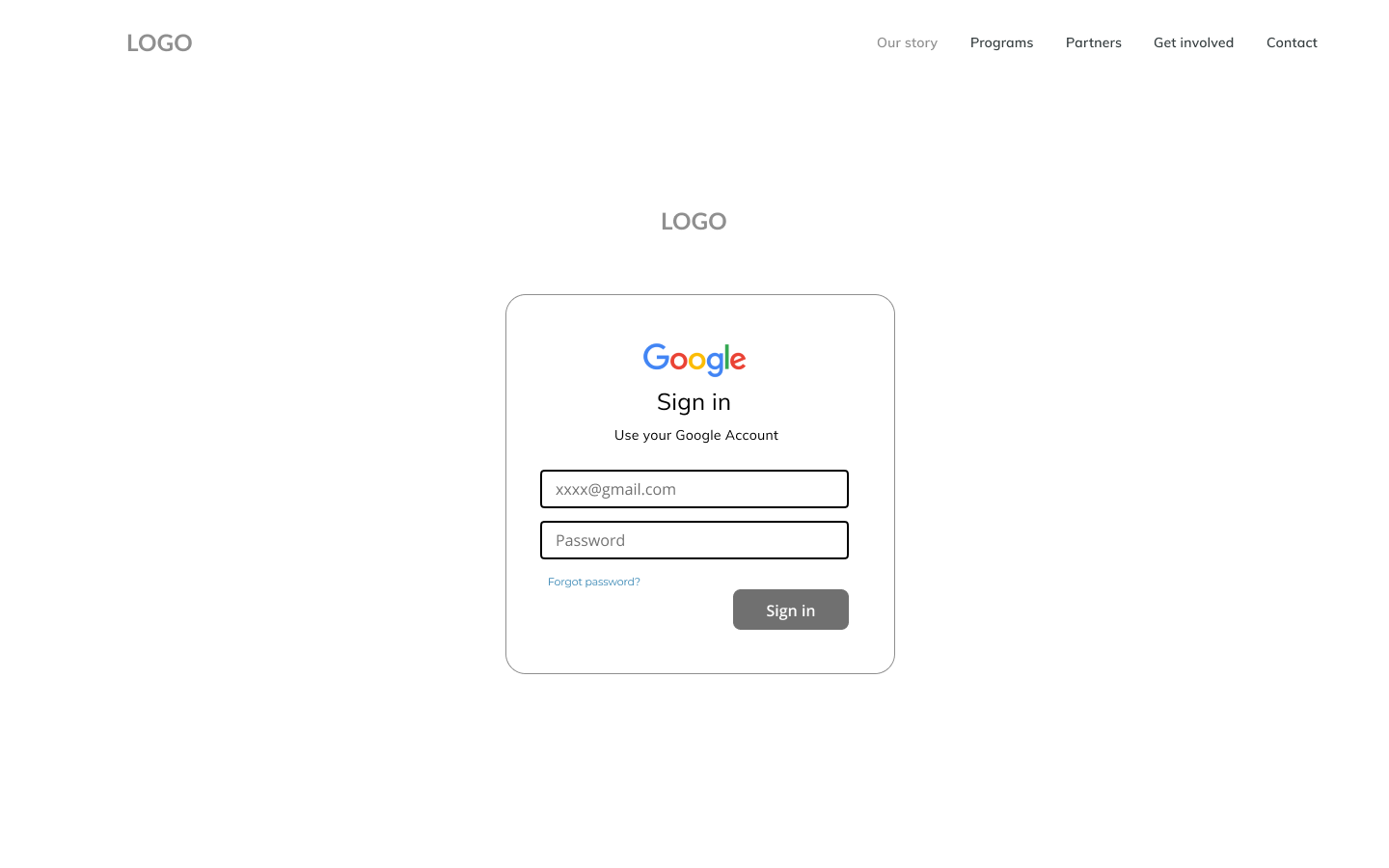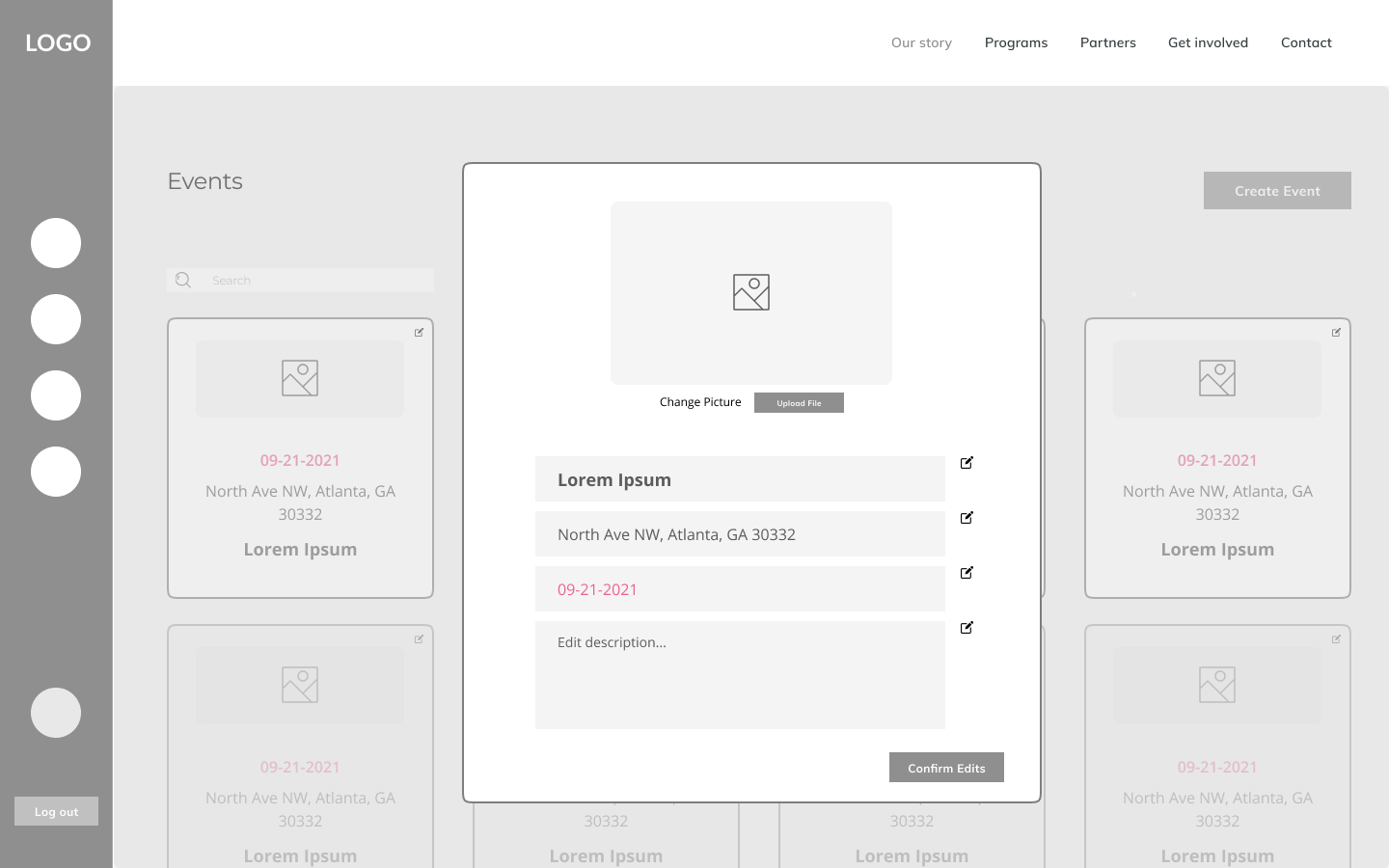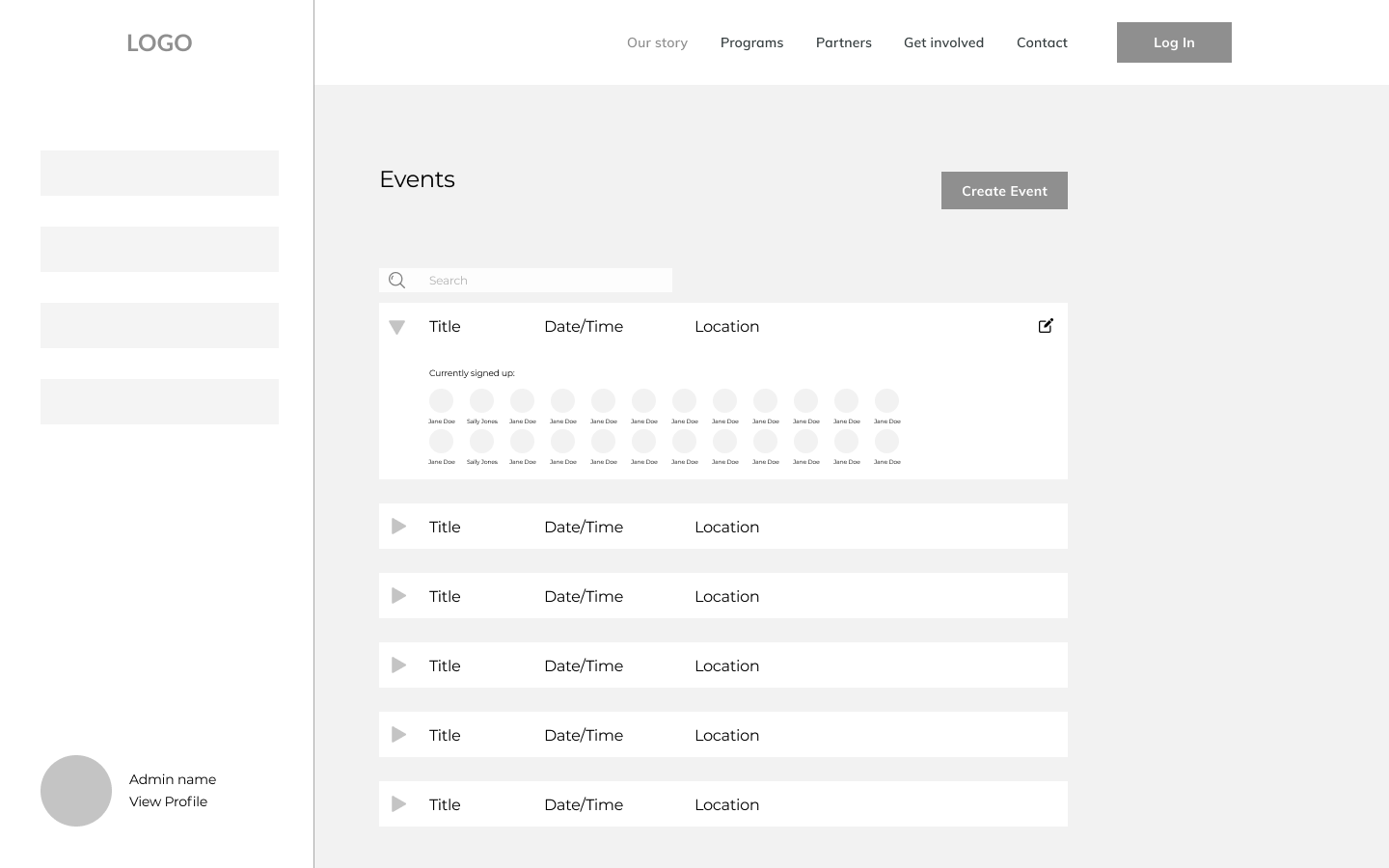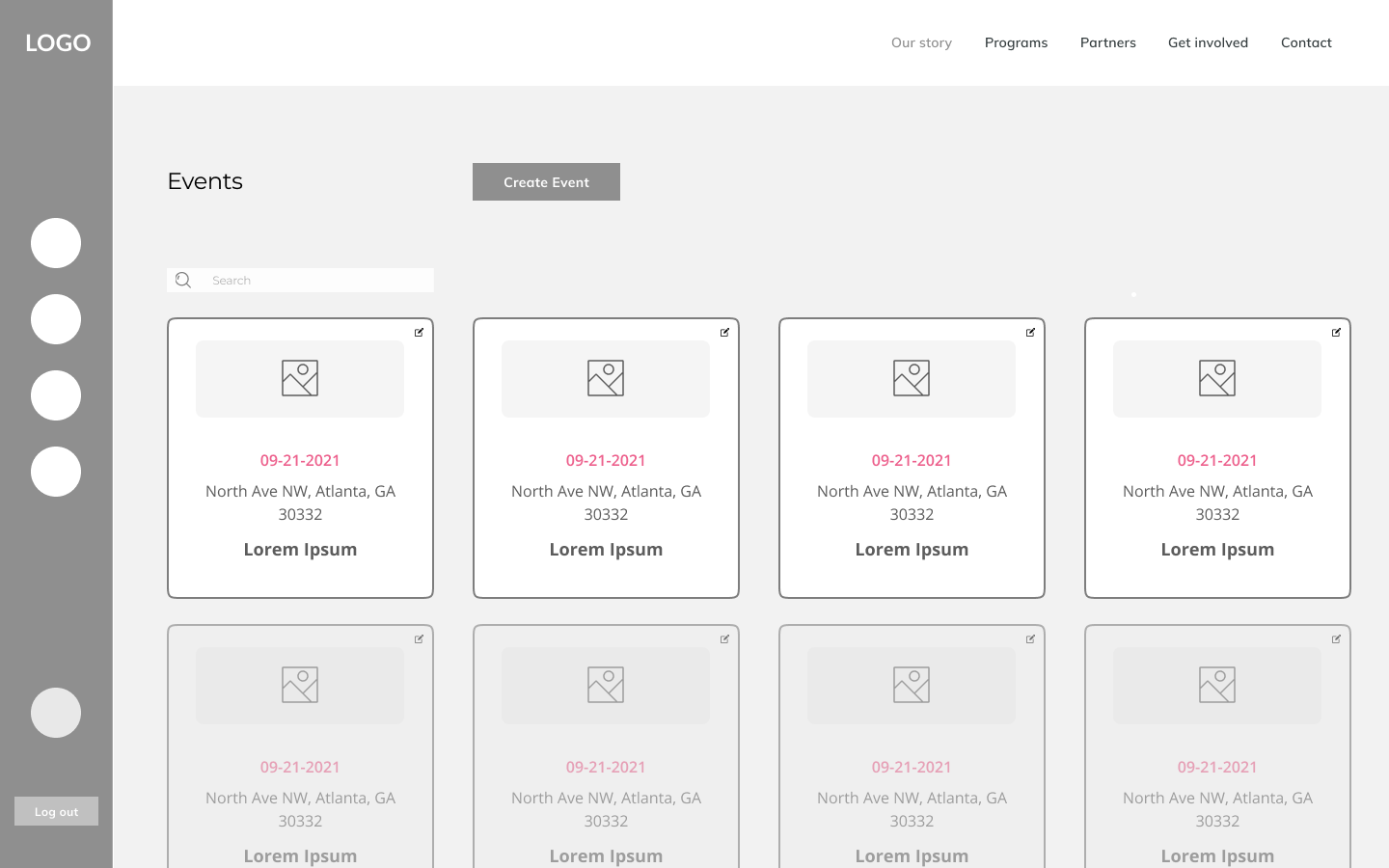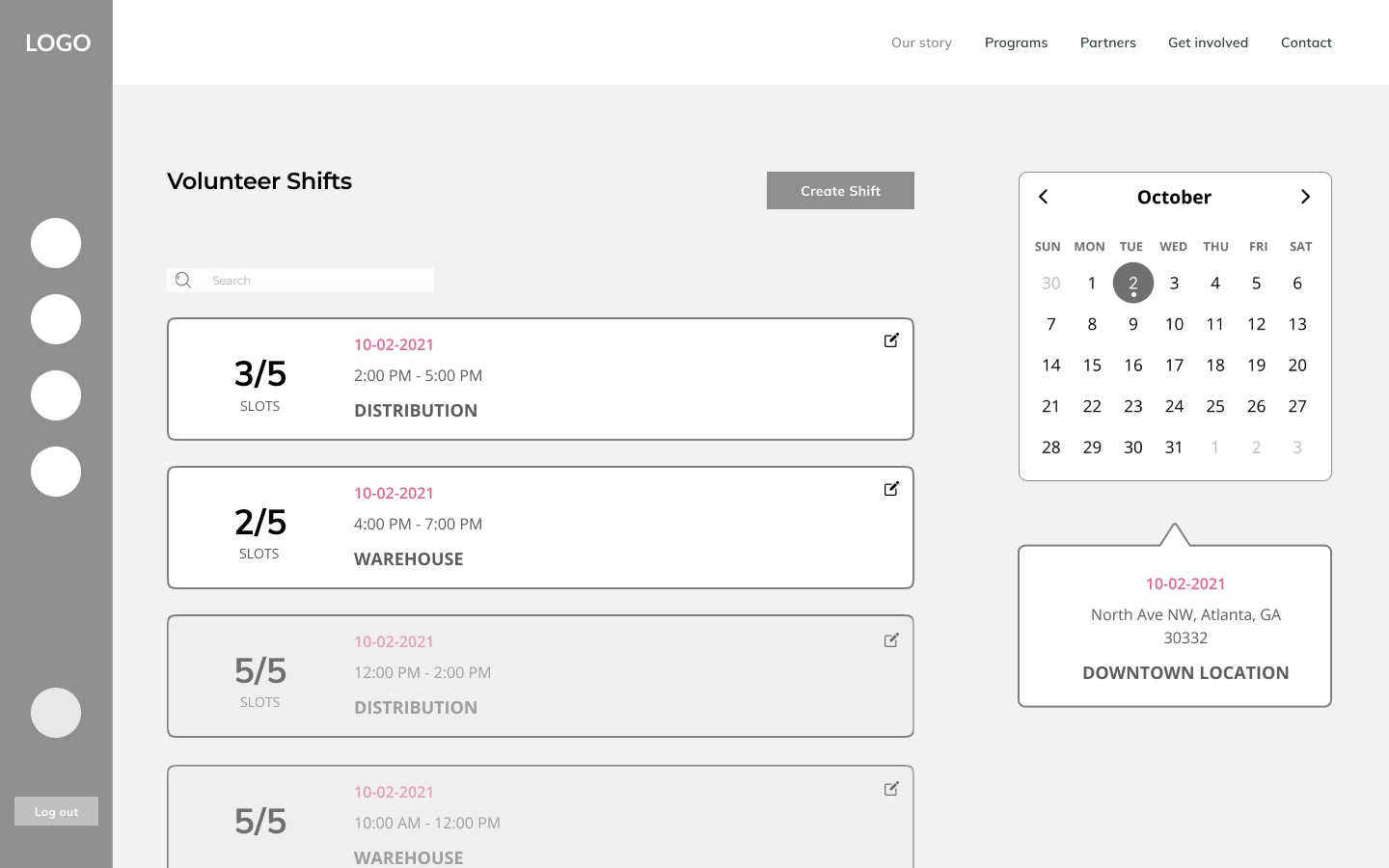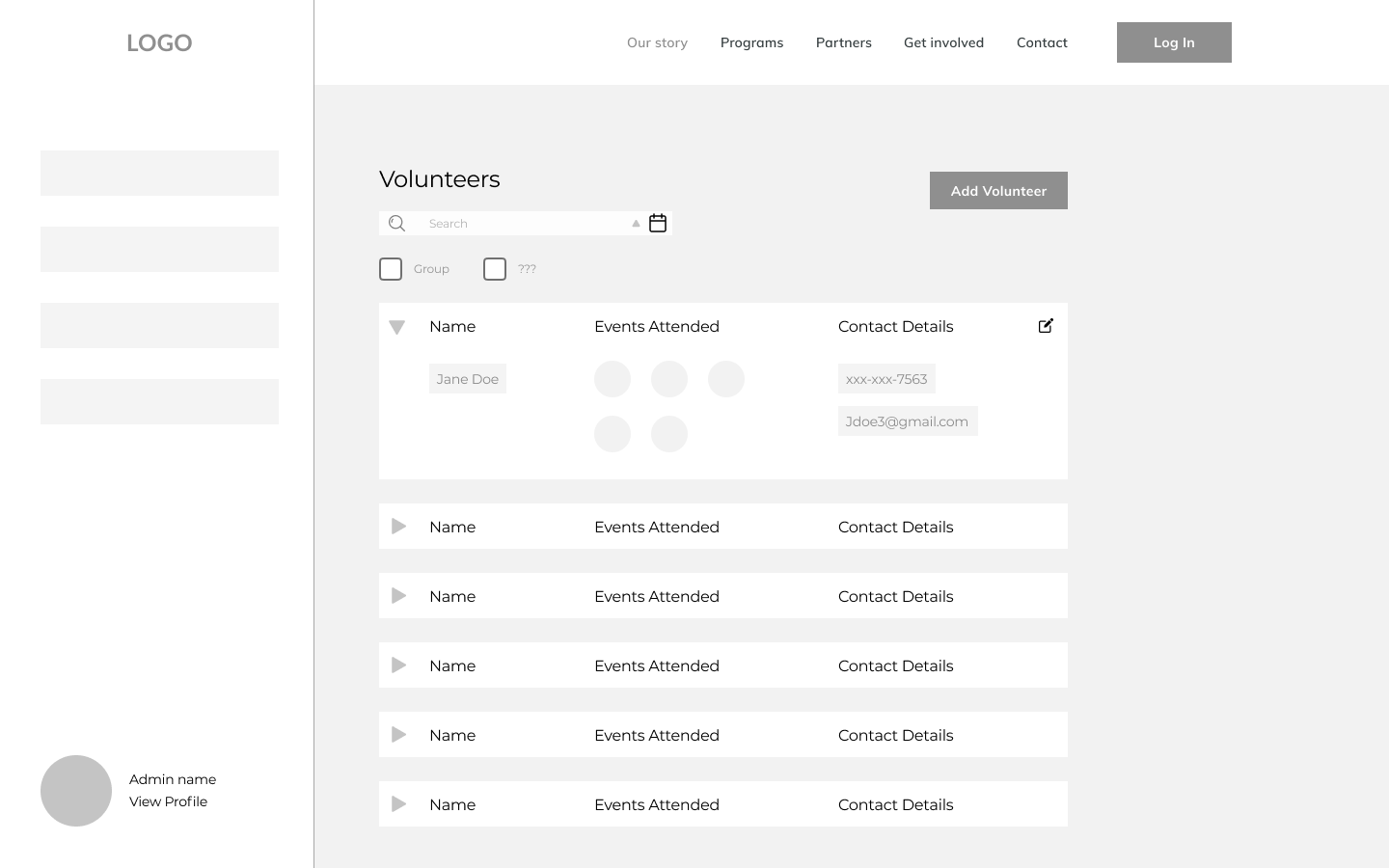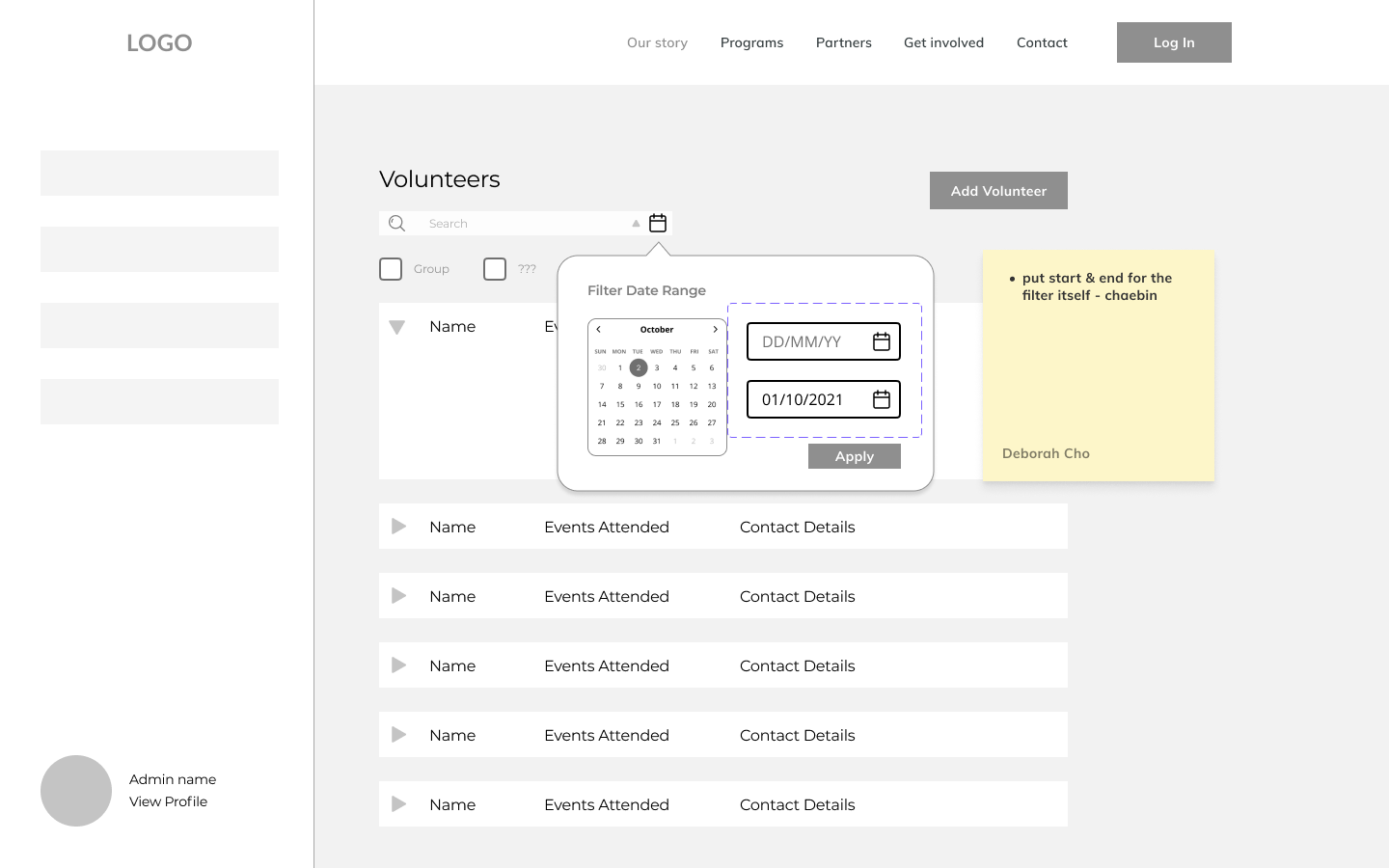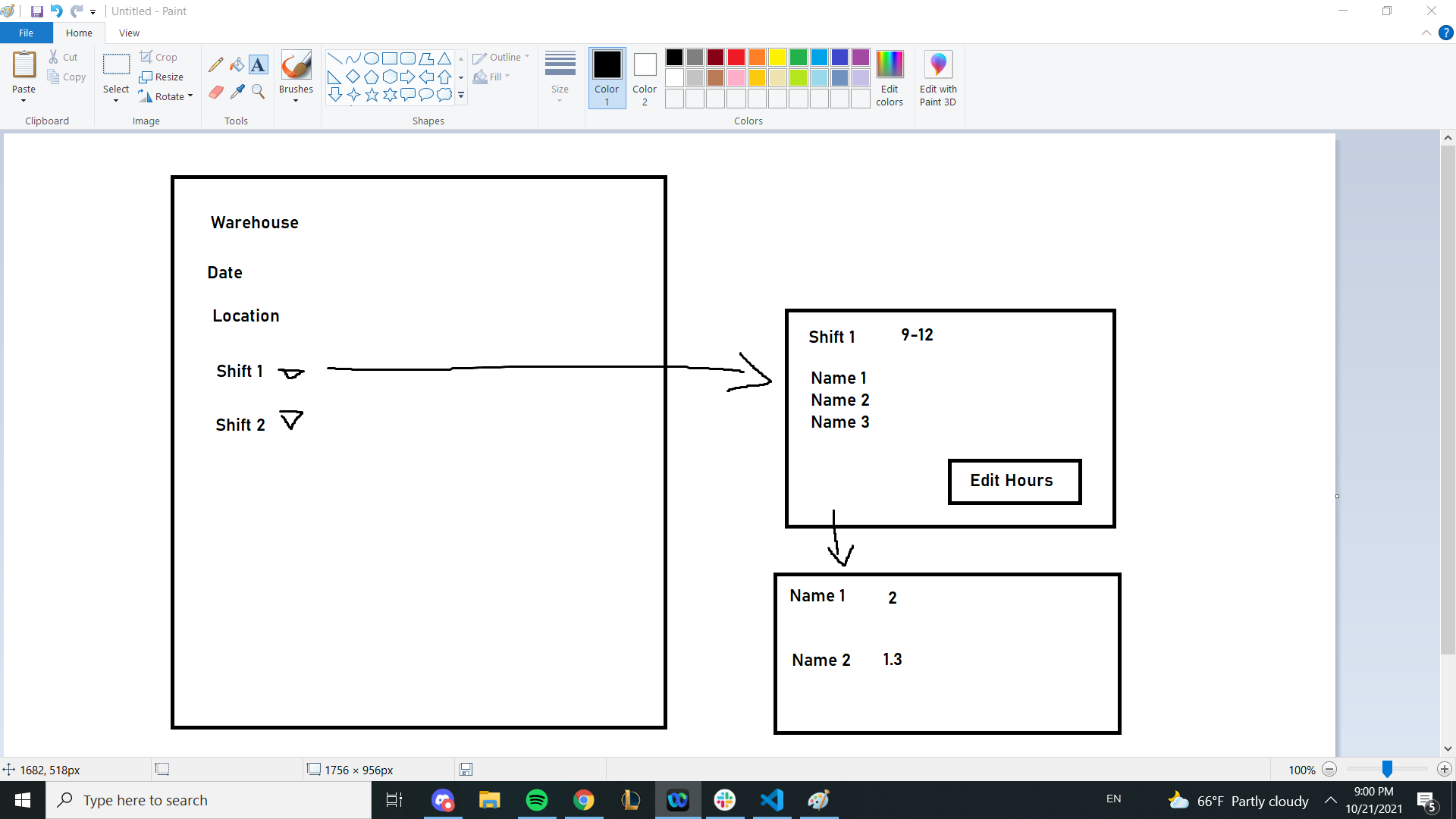 Design Critique
We then conducted a virtual design critique with our main admin user and mapped out this flow and logic during our session to take and iterate on our low-fidelity wireframes.
Mid-Fidelity Wireframes
We then began to build out our mid-fidelity wireframes and prototype to reflect the insights and feedback we received from our design critique session. We then presented to our internal team including our project manager, engineering manager, and engineers, and received feedback on technical feasibilities as well as some design critique.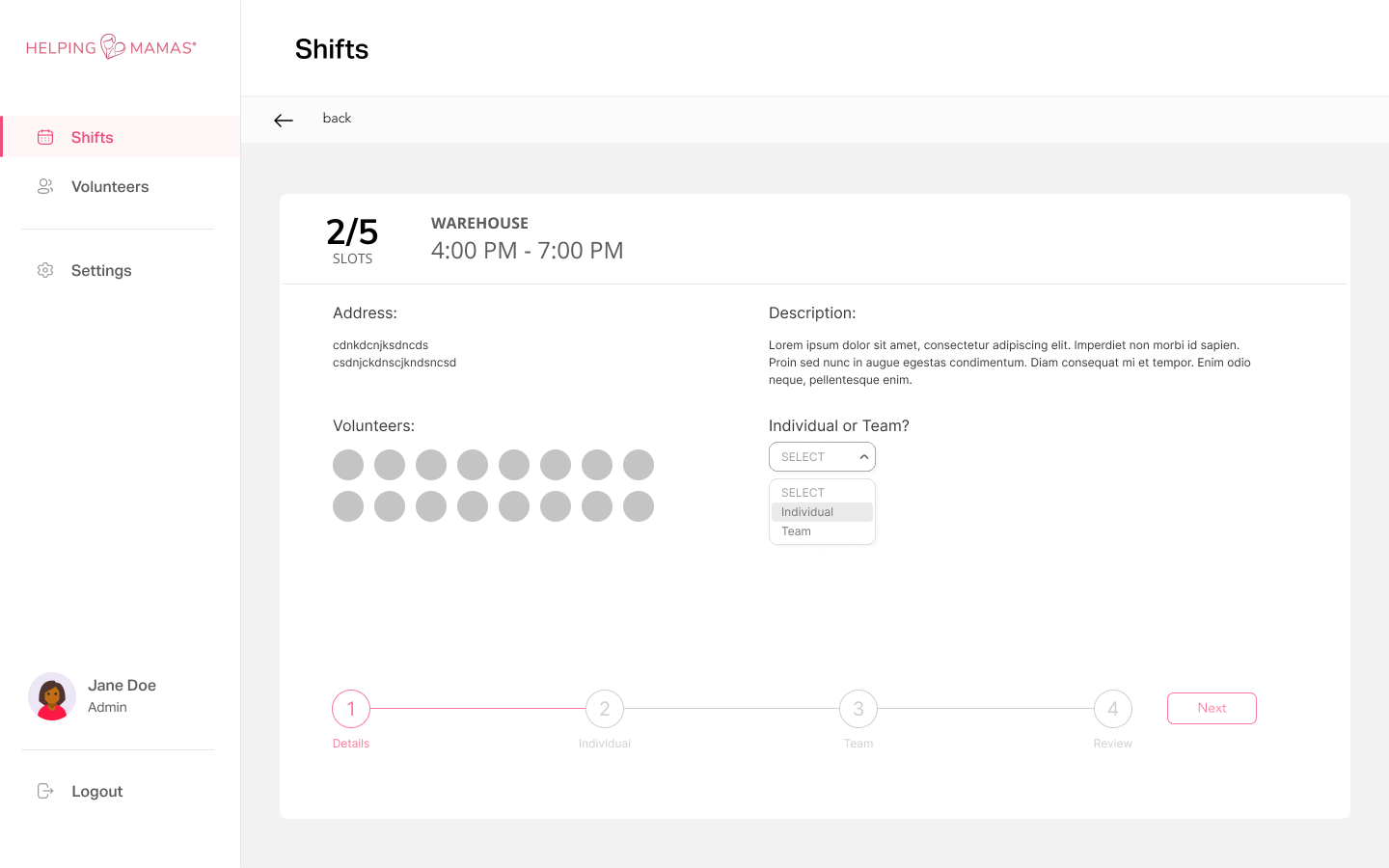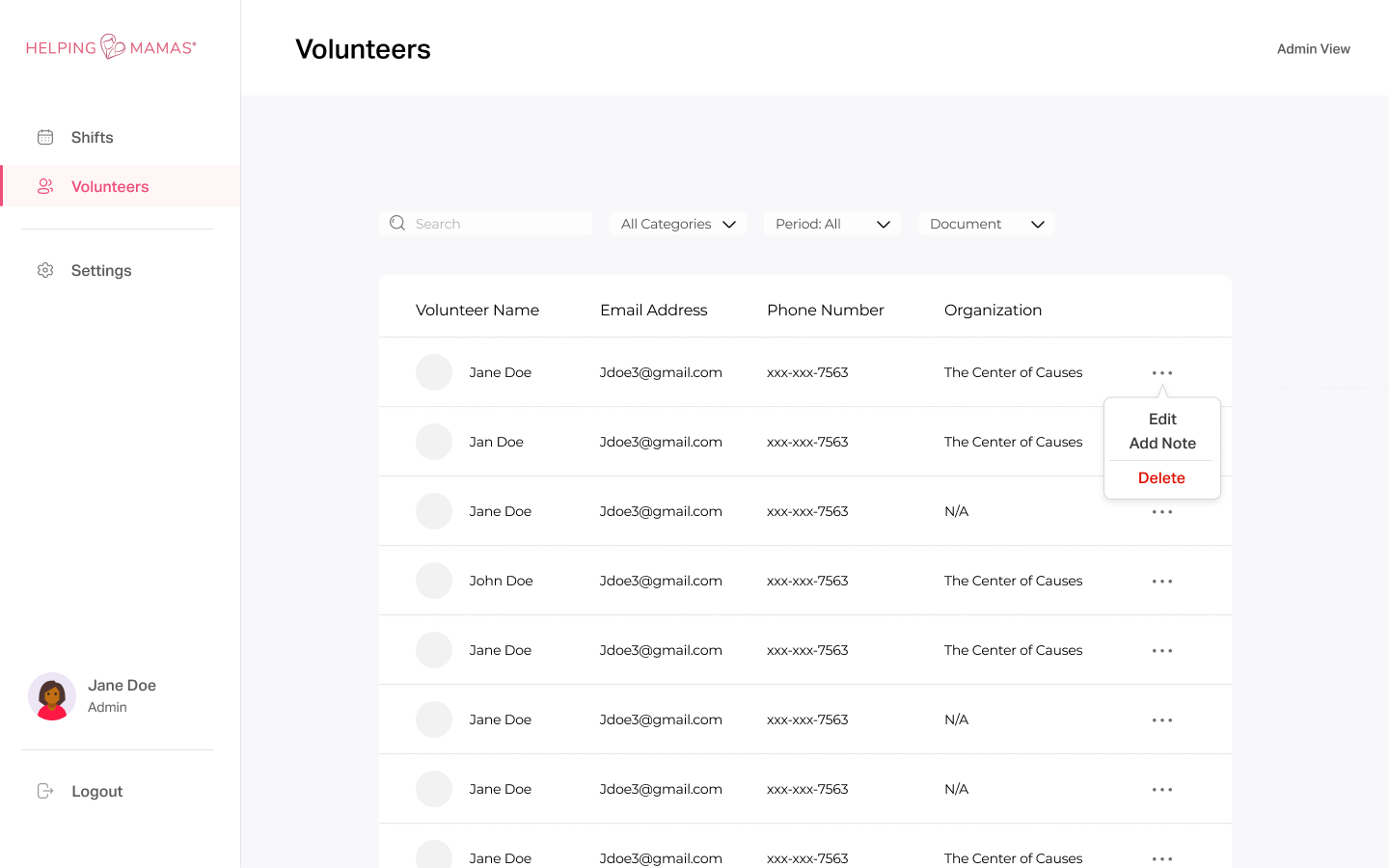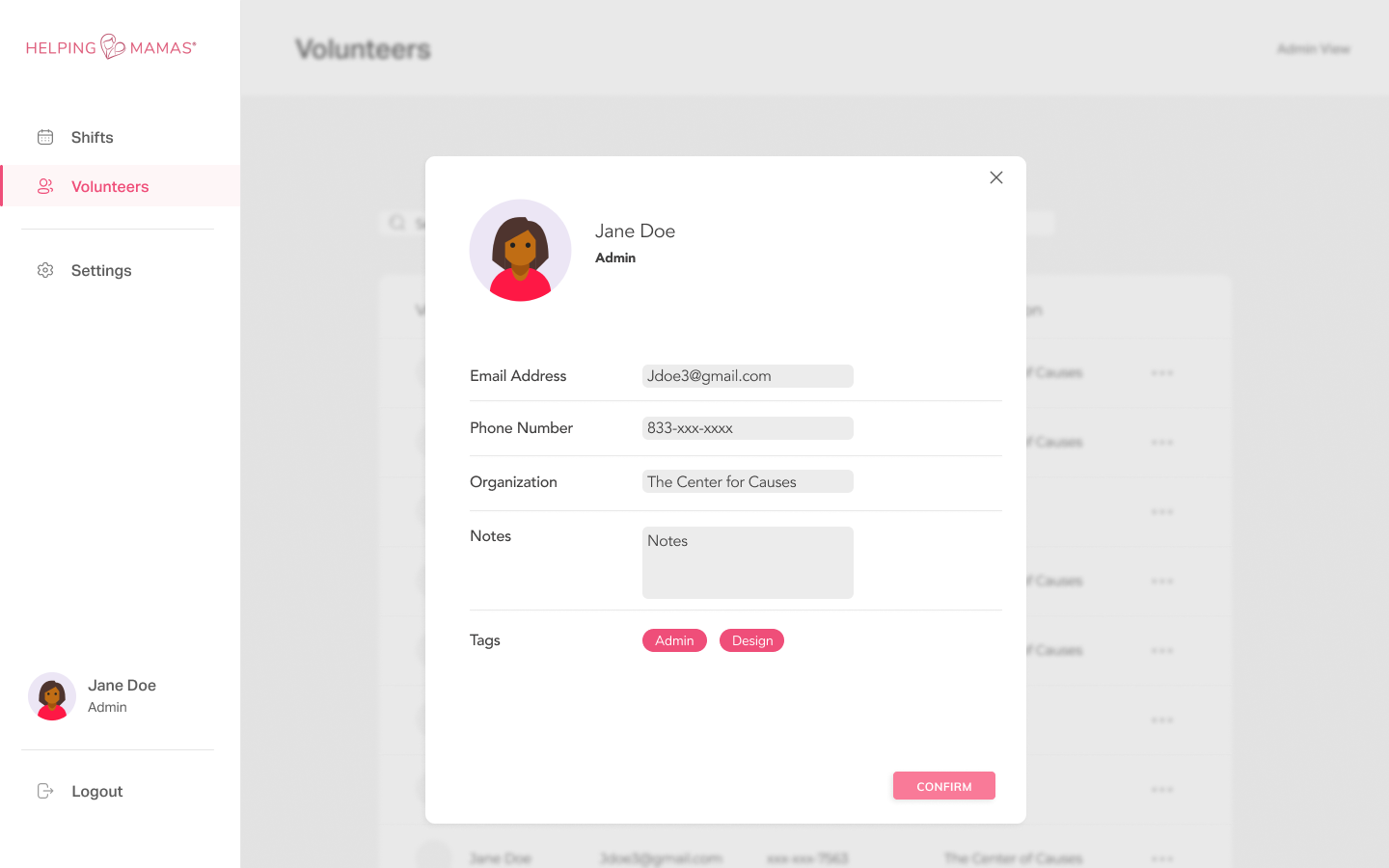 High-Fidelity Wireframes
After receiving our team's feedback and our main admin user, we then built out our final high-fidelity wireframes and our prototype for engineering hand-off and final presentation for demo day.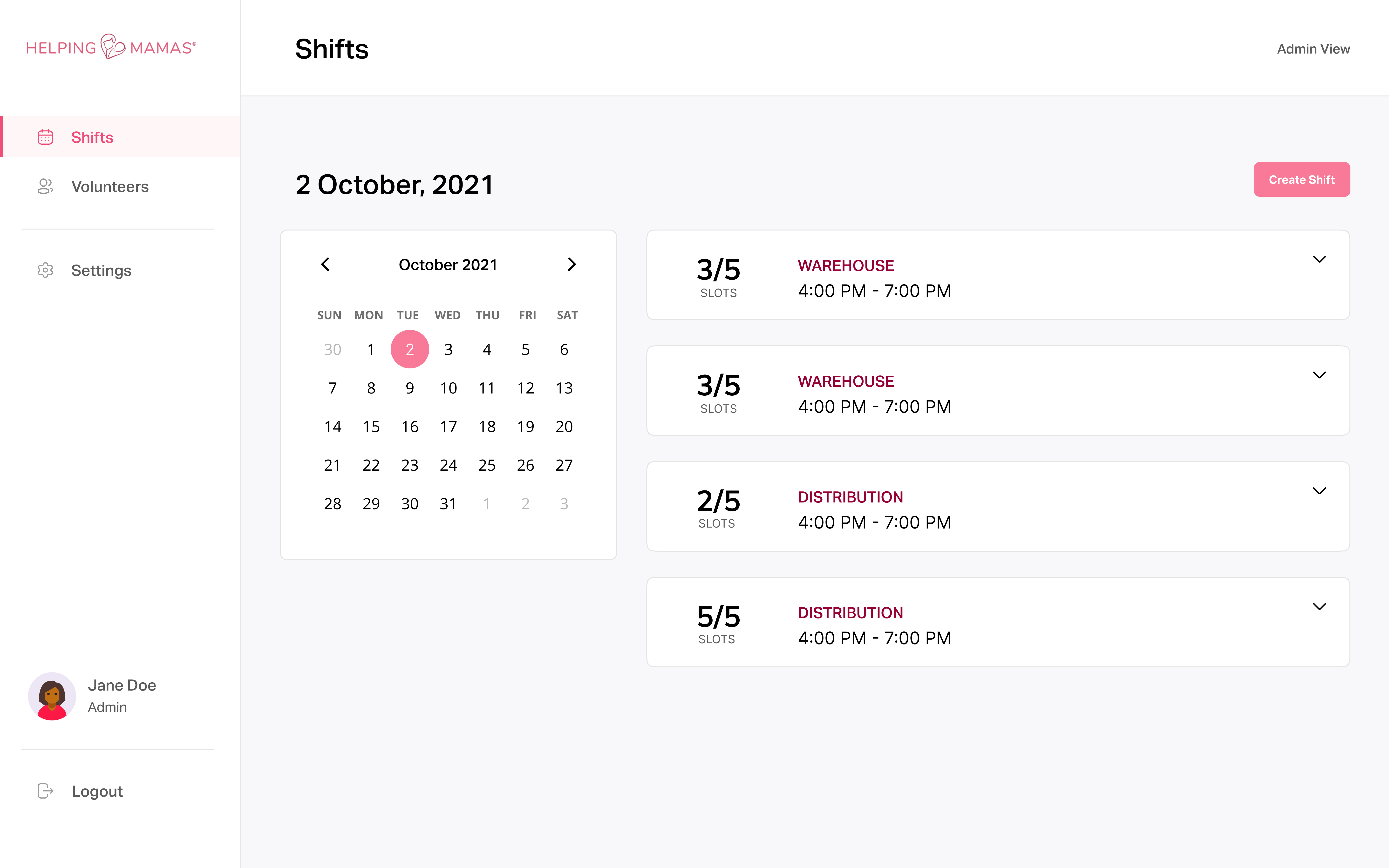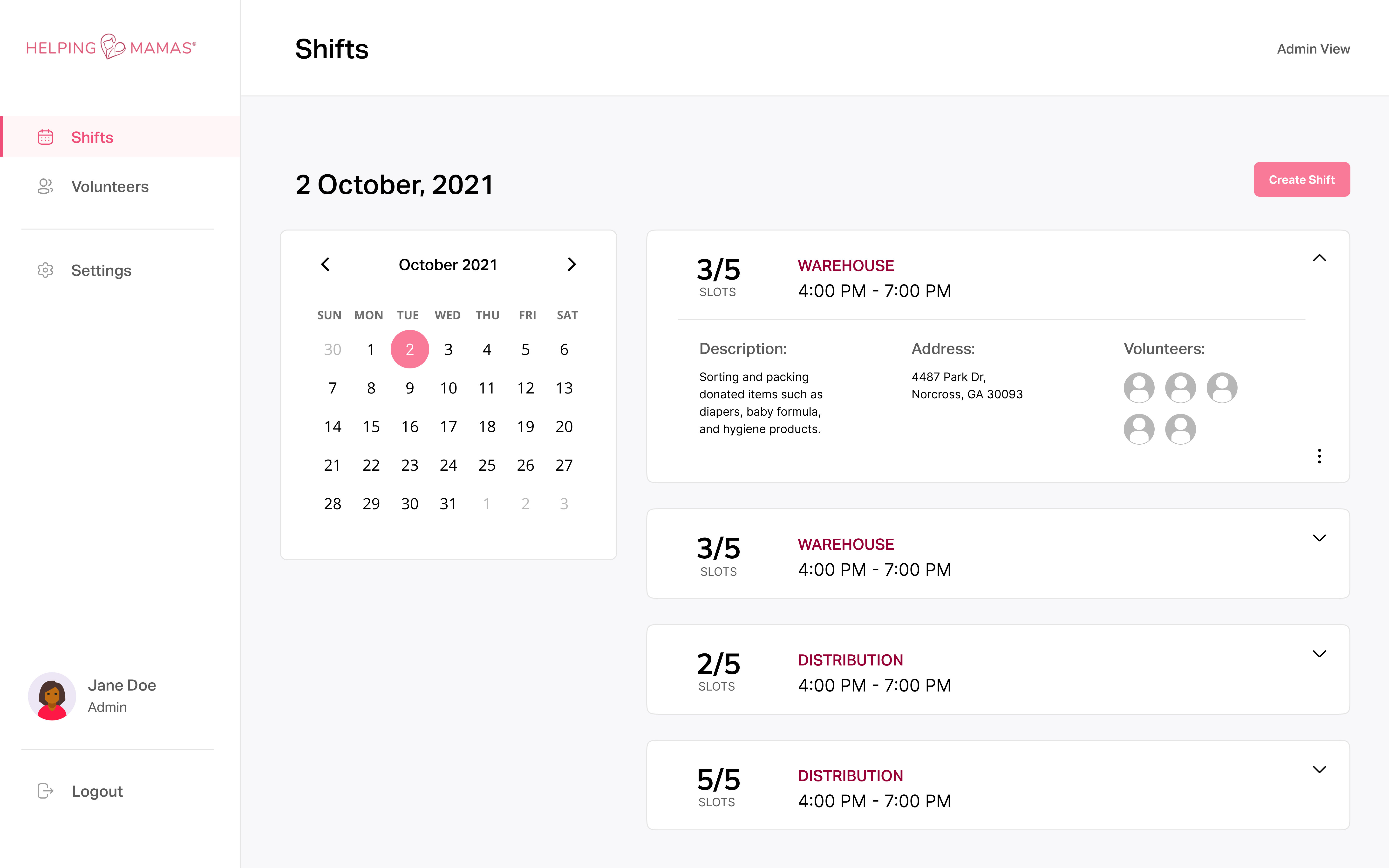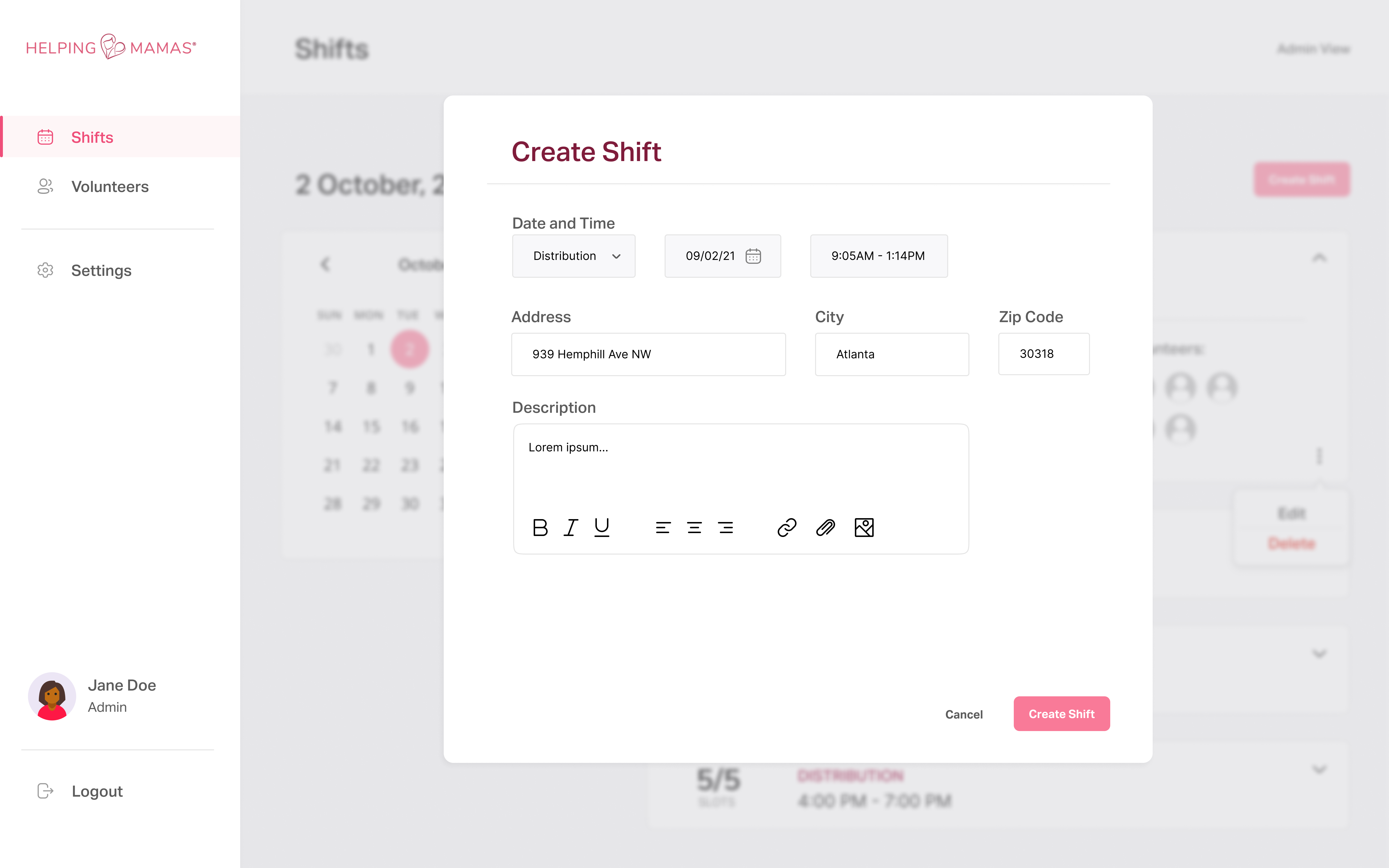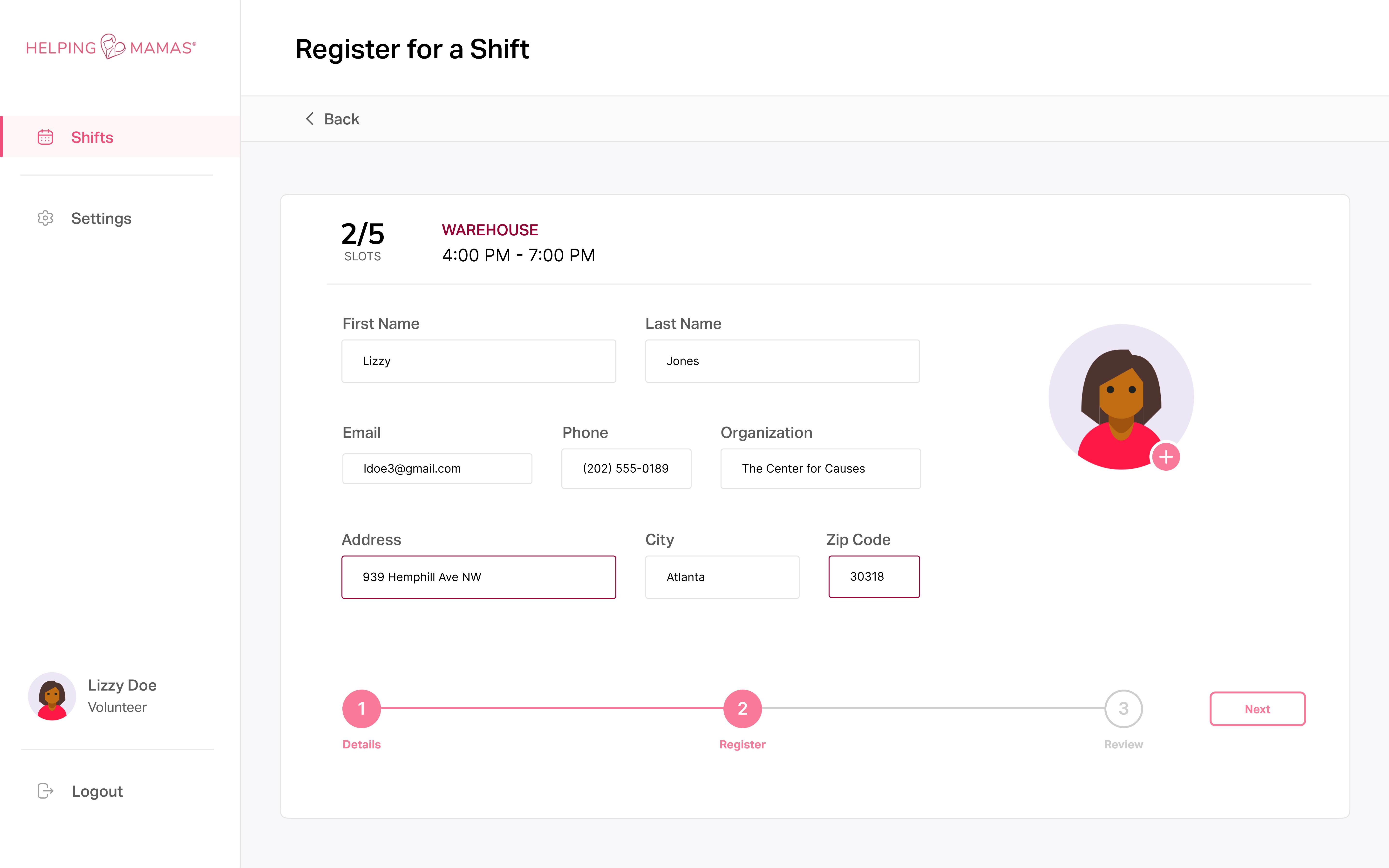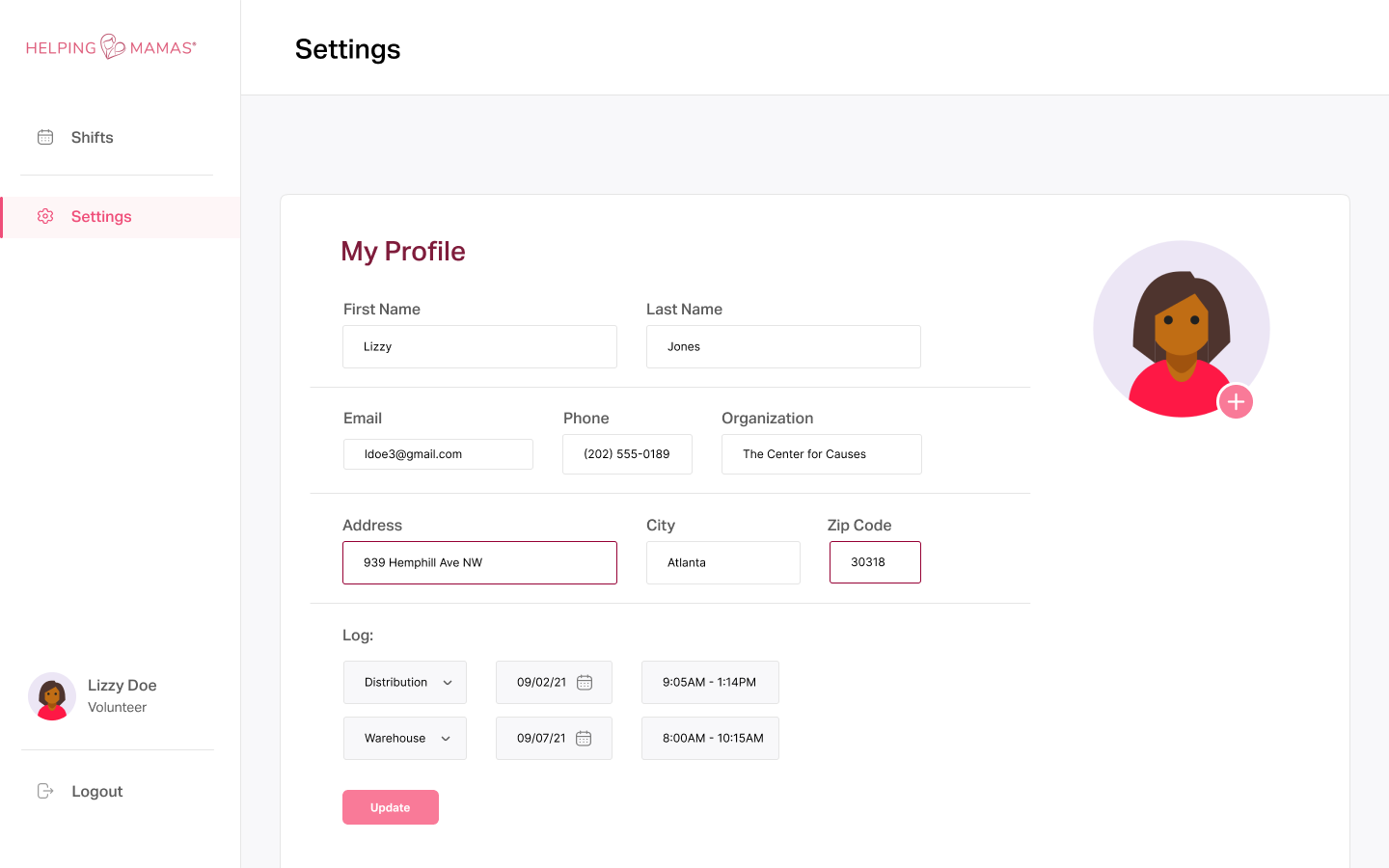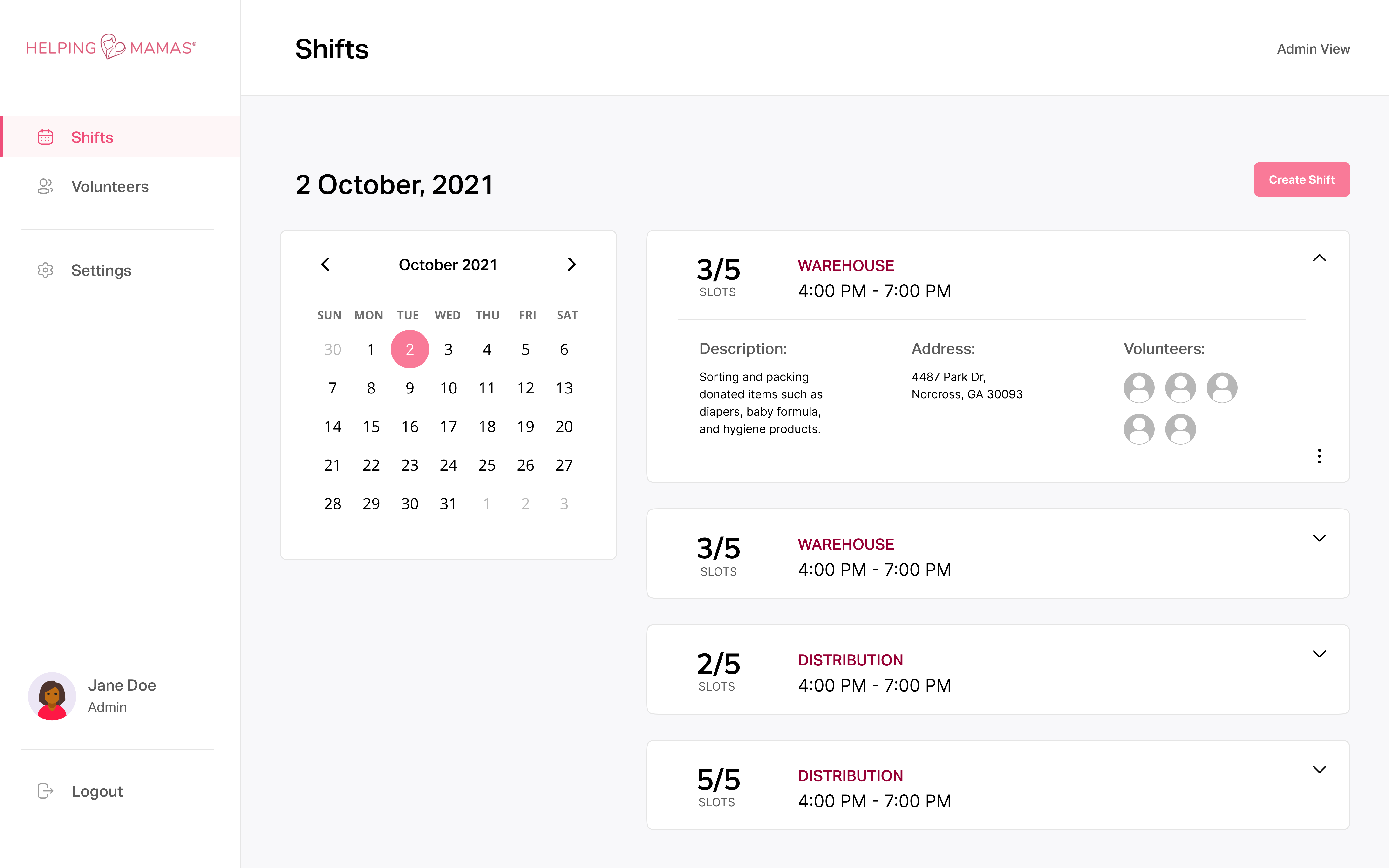 Final Presentation & Demo
Our team presented at the final Bits of Good demo day and I created the final poster for our team. The poster was printed out physically and we had a laptop for people to demo and experience our current prototype while we explained who Helping Mamas is to other students and faculty.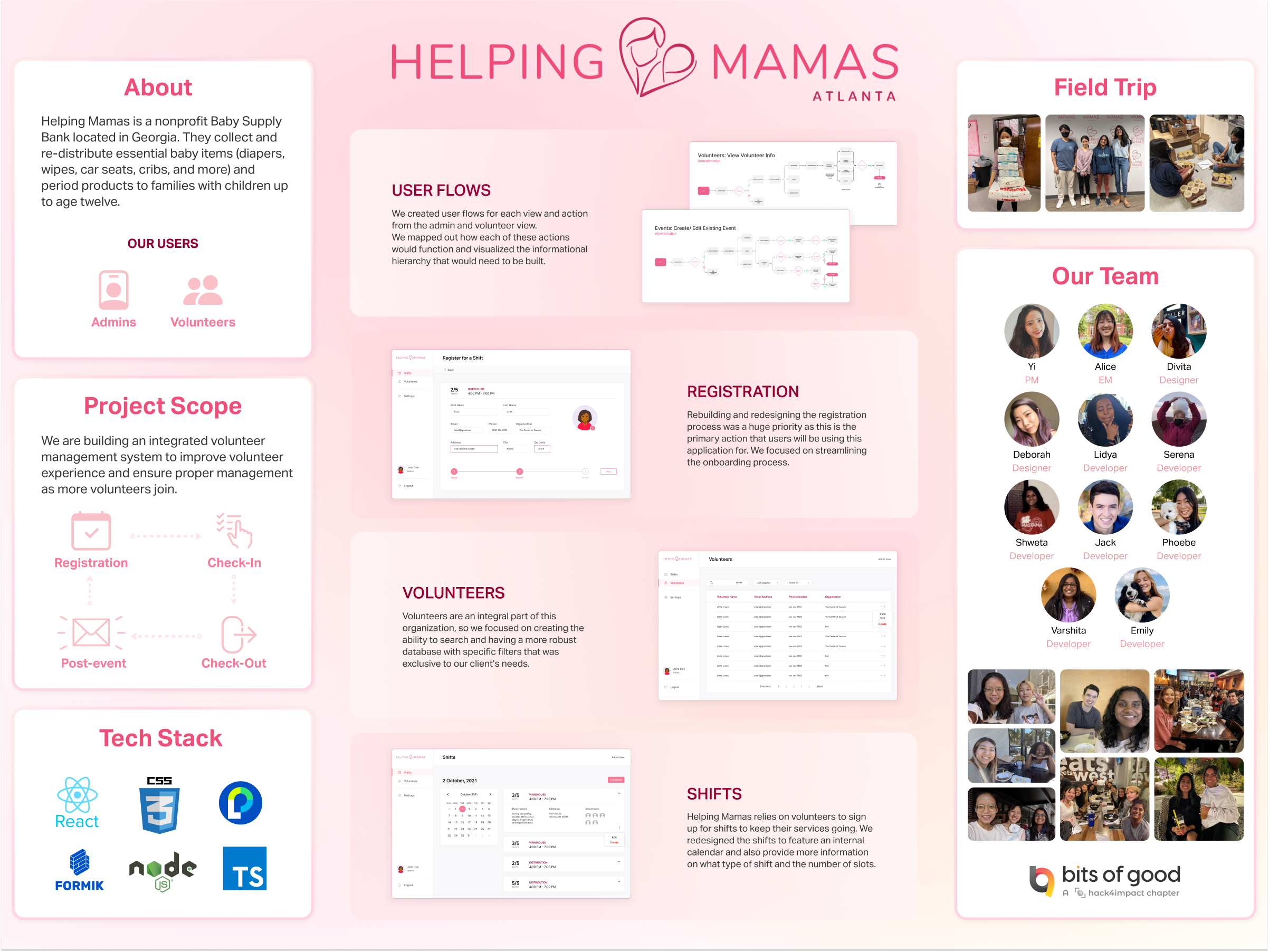 Next steps
For this project scope and MVP, we focused on creating events, editing and deleting events, and viewing volunteers for our admin users. For our volunteers, we focused on signing up/canceling for events and viewing upcoming events. The following features would be project scope opportunity areas:
01
Attendance tracking of the volunteers and volunteering hours logging
02
Statistics for our admin users to track most-involved volunteers and event success rates
03
The ability to send out thank you emails through the portal itself rather than using third-party mailing list vendors
Takeaways
I learned a lot about what it's like to work on an MVP project with multiple stakeholders and a large team filled with engineers, project managers, and a fellow designer. Due to the project taking place during the school year, I also was able to use this opportunity to learn more about project and time management as well as learning how impactful the user experience design can be for organizations as large as Helping Mamas.
Thank you for your time!
If you would like to chat more, please email me here: dsc02022@gmail.com