VOLTUS
Designing a mobile application to help students find outlets in a busy university environment
VOLTUS helps students save time when searching for an outlet for studying
This mobile app will automate the time-consuming process of searching for an outlet by bringing that process straight to your fingertips.
This project was completed in 3 days during the UGAHacks hackathon.
Problem
Oftentimes for university students, when searching for places to study, whether it be in the university library, local cafe, or secret study rooms; one of the longest parts of the process is searching for an outlet to sustain longer study sessions. More often than not, the actual search process can actually be longer than the study session itself.
Solution
We wanted to provide a solution for this problem through a mobile application that could provide the status of availability for these outlets. The outlets would have a pairing hardware component that will signal whether or not the outlet is currently being used by another individual.
Tools
Figma

Adobe XD

Adobe Illustrator
Team
1 UX designer

1 back-end developer

1 full stack developer
My Role
UX design

UX research

Branding

Product Design
Timeline
Overall: 3 days

Discovery & Research: Day 1 & 2

Design & testing: Day 2 & 3

Pitching: Day 3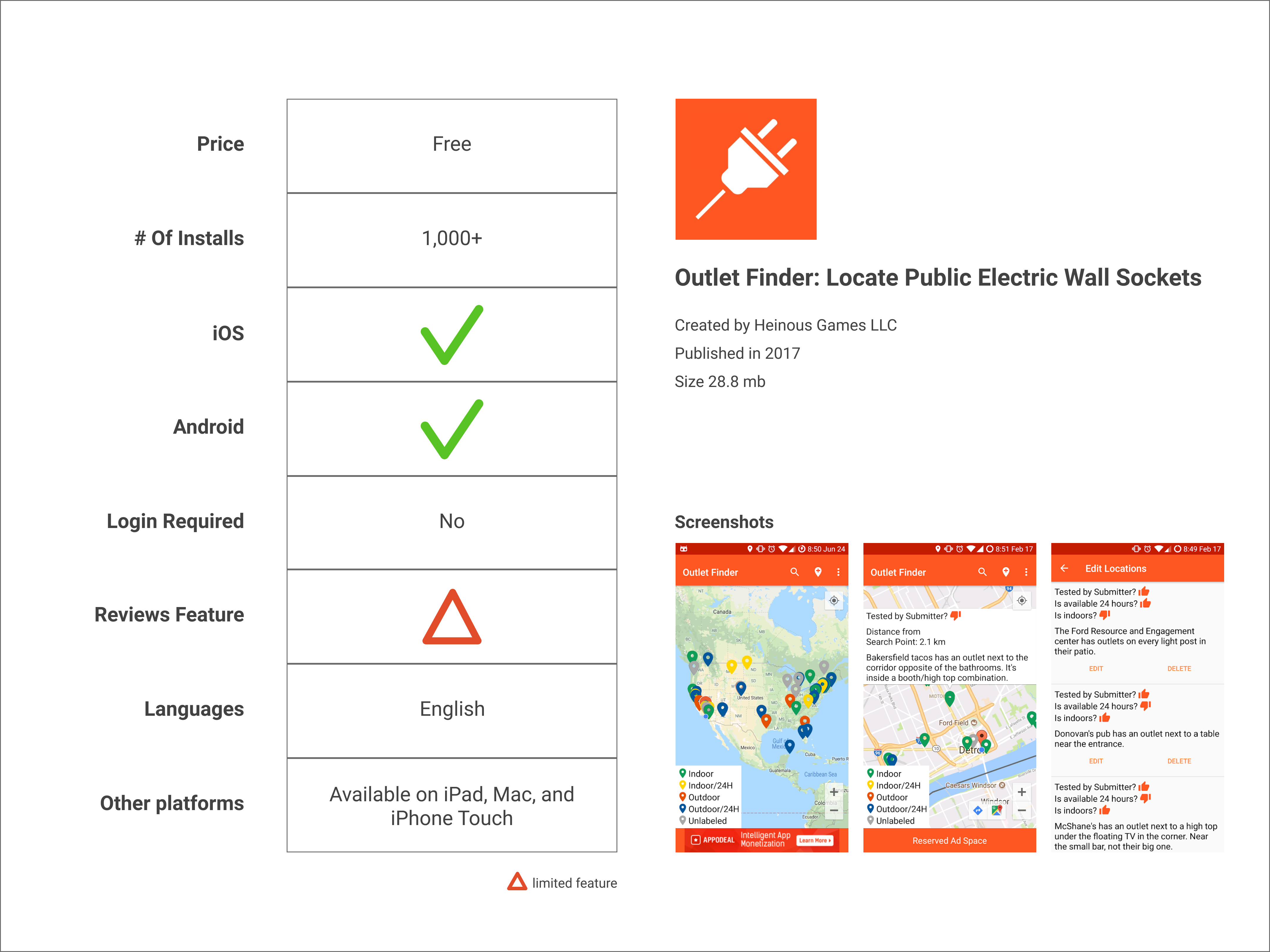 Competitive Analysis
I conducted a competitive analysis and during the time of this project, there was only one other application addressing this need. It was user-input-based and didn't have the direct and live data that we were looking to input into our application.
Survey
Due to the project's short timeframe, I asked informal survey questions to our target demographic, students. I asked fellow students on my team as well as around us at the hackathon, what their experiences were with outlet searching and how long it takes them to find an outlet.
Defining Personas
We decided on these two personas to serve as a model for our target audience base. They help represent the average user that we would see this application benefitting with the focus being on their lifestyles, goals/needs, and current pain points in the process and problem that we outlined above.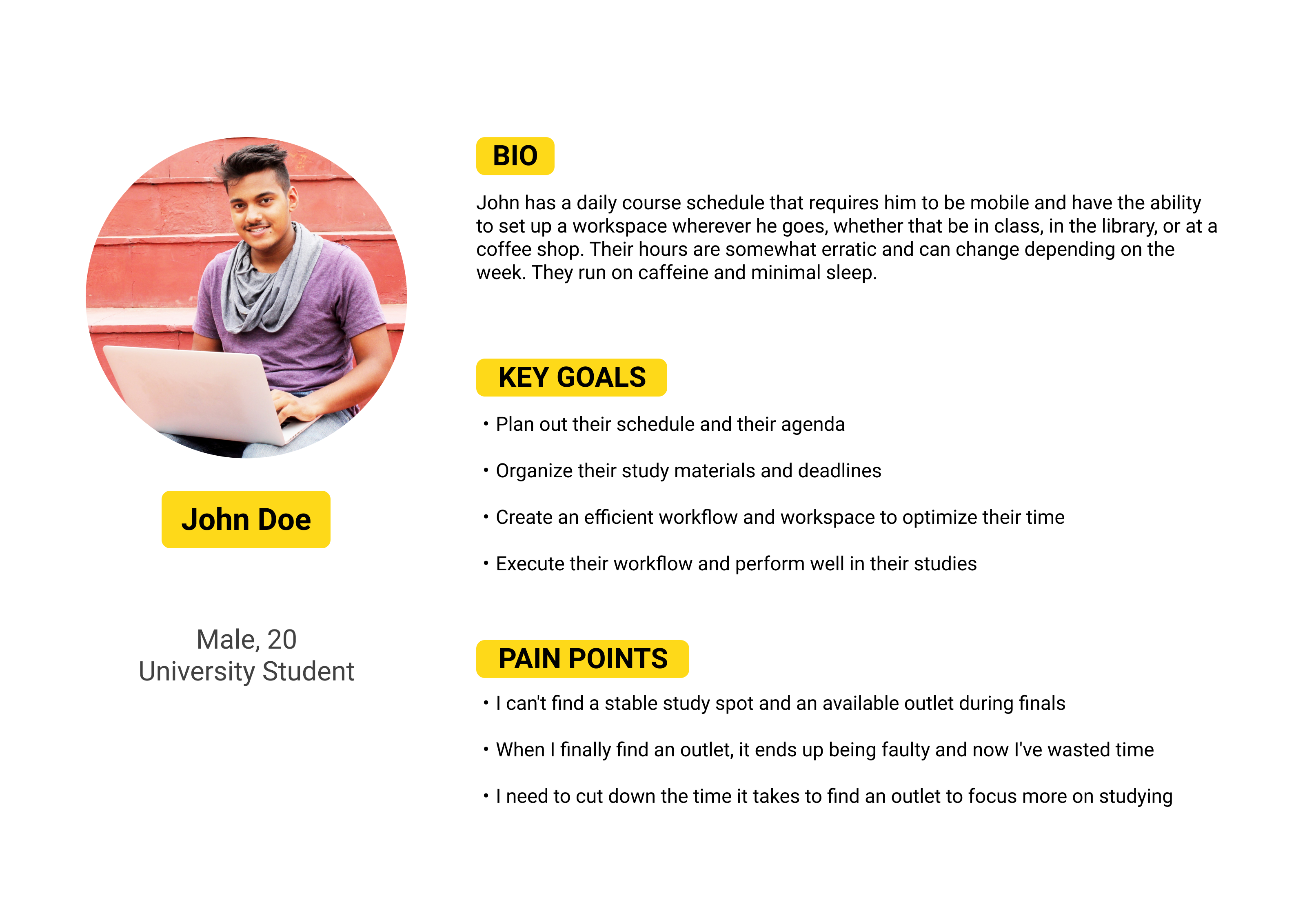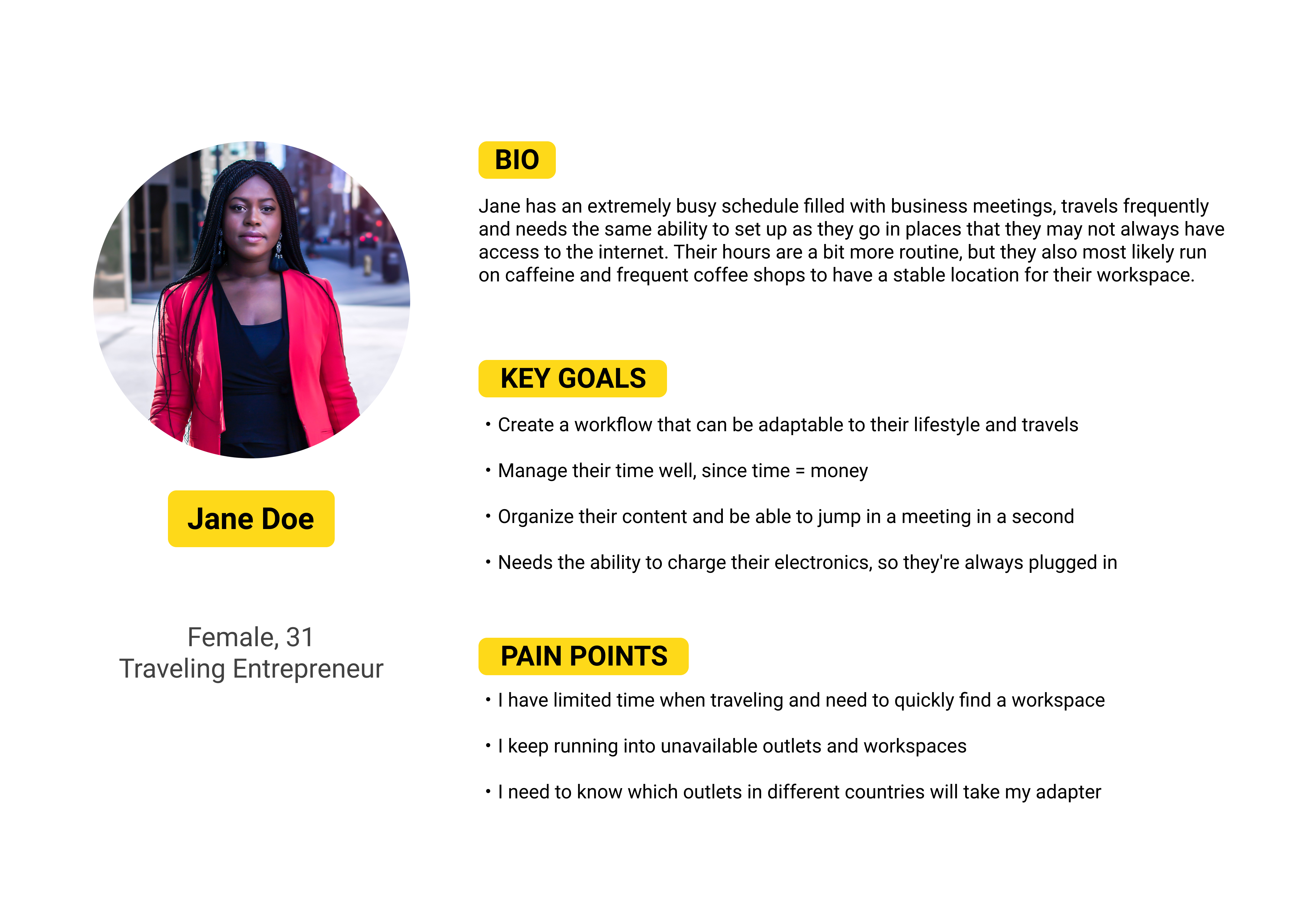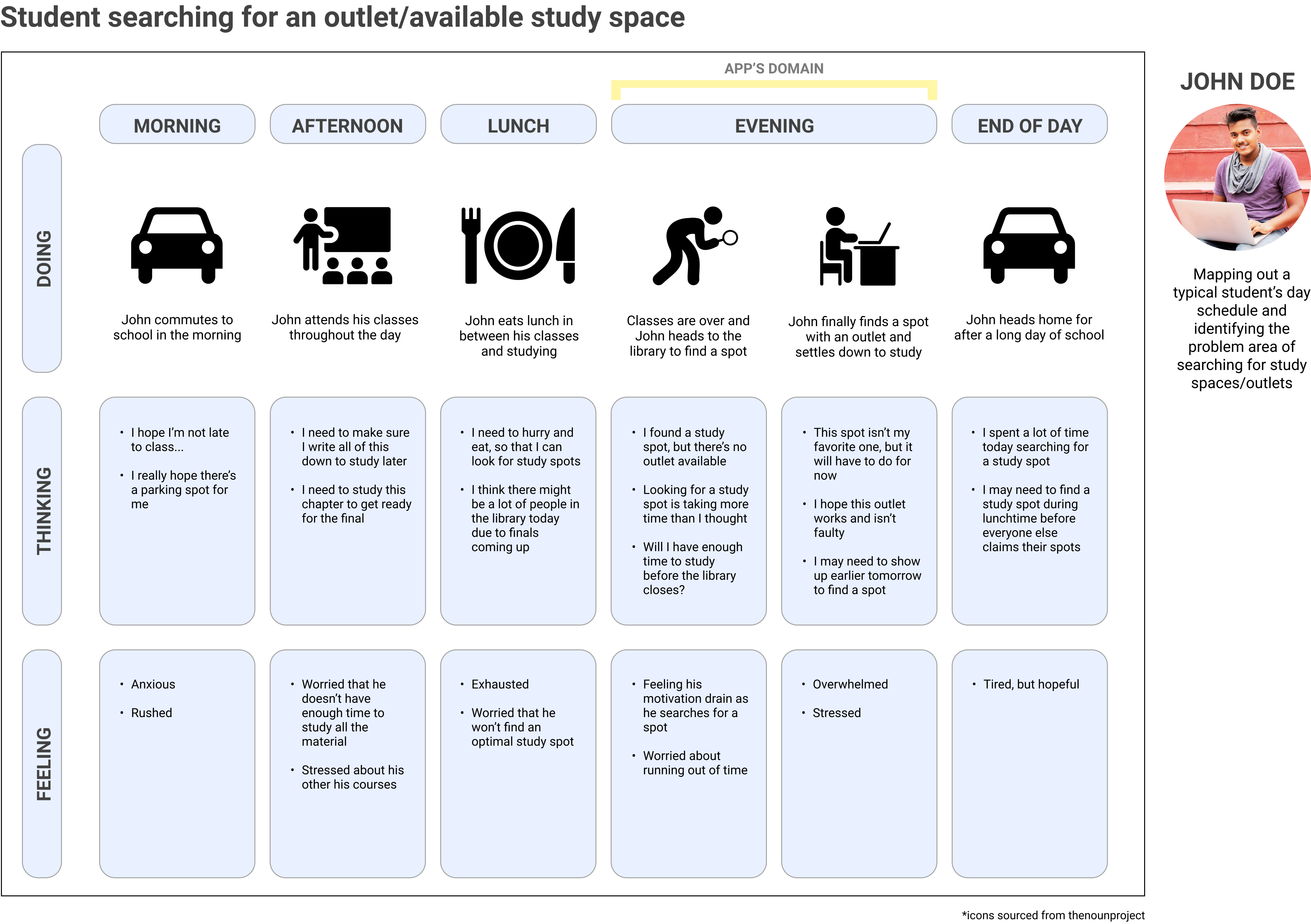 Customer Journey Map
I then began to map out the current user journey map and the different things that the user might be feeling and thinking throughout their day. This artifact maps out a typical student's daily schedule and identifies opportunity areas for study spaces/outlet searching.
Information Architecture
For the first part of the design and functionality process, I started out with a simple and direct flowchart. I wanted to get a good sense of the navigation of the app and to understand how the app would flow before jumping into designing the actual prototype itself. This general flowchart visualizes the basic flow of the app.
I also included a section of "Future Features" for possible future functionalities and to make sure the app is scalable. Some of these possible features include live updates, a colorblind mode, and possibly an expanded community section.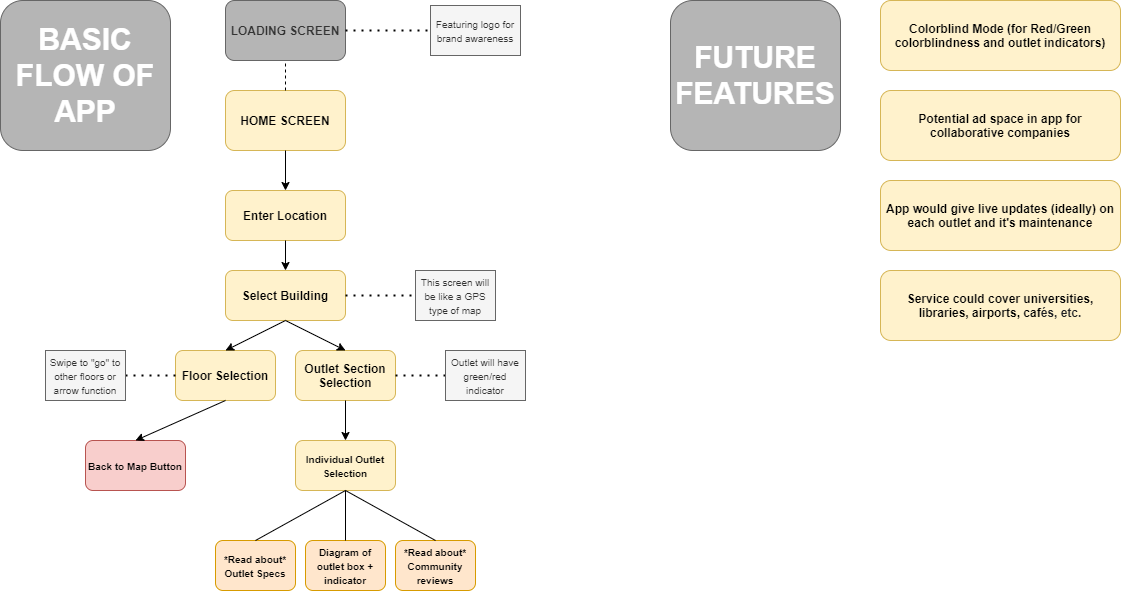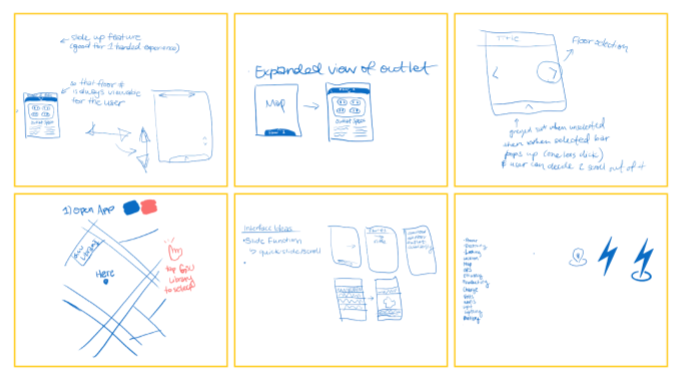 Preliminary Sketches
I started sketching out some ideas for each screen of the app. I sketched some ideas for different features and how the general layout would function.
One feature that we wanted to implement was keeping the app a one-handed experience by utilizing sliding features, so sliding up to view the outlets and keeping the floor number always viewable at the top of the screen.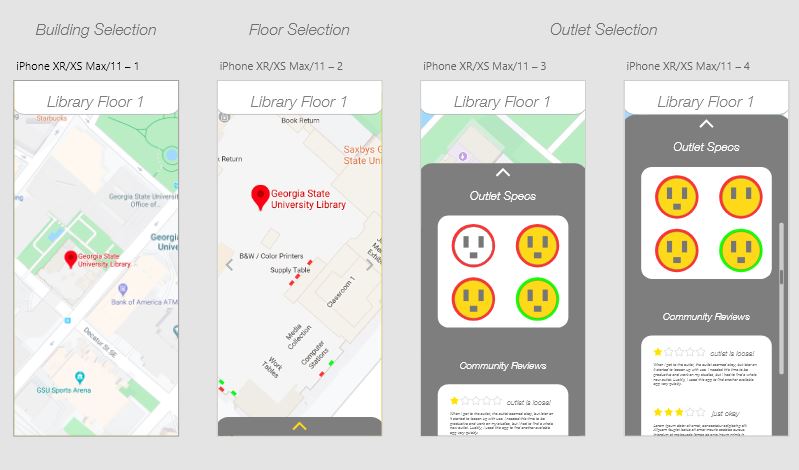 Low-Fidelity Prototypes
For this part of the process, I wanted to feature the initial low-fidelity prototypes. These screens show the bare minimum function of the app.
It features zero branding and is just showing the skeleton of what the app would become. It has a few features like the outlet specifications and the home screen/navigation screen that the user will first encounter.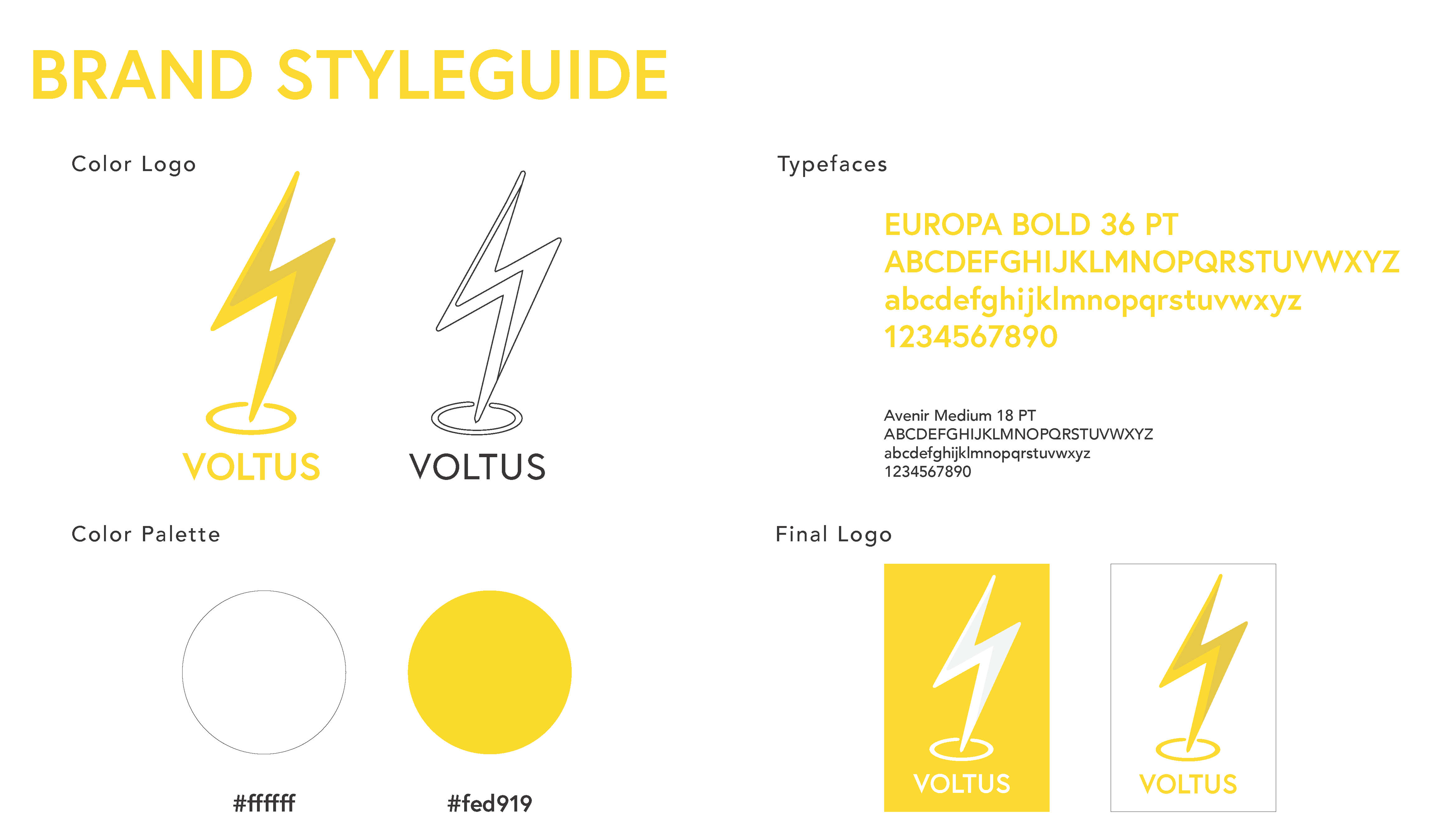 Branding
For the branding, I kept it very minimal since we were on a pretty tight time crunch and decided on one bold color of yellow and a white highlight.
I created an overall brand style guide and showcased Europa as our bold display typeface with Avenir as the matching body typeface and kept everything very minimal, but clean to present the idea.
Pitching
And at the end of this short, but long weekend, we got to pitch our ideas to the hackathon judges! I put together a succinct presentation and we demoed our prototype on our mobile phones as well as a desktop video.
Our team comprised of three members and we demoed alongside a slew of other students attending the hackathon.
Final Prototype
Here is a video walkthrough of our final prototype. The user is able to select a building/location and look through all of the available outlets in that building. Once they see an available outlet, they are able to check the outlet specifications, as well as knowing if each individual outlet is used, and lastly community reviews on the outlet and the study space.
Next steps
How would you continue this project? Was there something that you would've loved to do but didn't have the time or resources? What advice would you give to the team or the designer following you?
01
Add more functional features to the overall application
02
Create a high-fidelity prototype
03
Take over outlets all over the world
Takeaways
I am very grateful for my teammates and this experience. I learned so much over these three days and I really enjoyed the challenge of pushing out a minimum viable prototype that my teammates and I could be proud of and excited about. I learned a lot about how important the relationship between a designer and a developer is and how helpful it can be when you both speak a bit of each other's language.
Thank you for your time!
If you would like to chat more, please email me here: dsc02022@gmail.com